Illinois (ECWd) –
While we have been exposing the Governor for his disgraceful lies in his efforts to smear his opponent, West Point Graduate Jeannie Ives, violations of our Freedom of Information Act laws, and alleged ethics violations, we now find his antics have not gone without notice at the national level.
The Society of Professional Journalists (SPJ) issued their Black Hole awards Friday along with their Dishonorable Mention.
Yes, Governor Rauner has now received the top Dishonorable Mention from the SPJ.
"Illinois Governor Bruce Rauner's Office is well known for taking its time with Freedom of Information Act requests, often taking over a year to respond."
"Because of this, Erik Abderhalden wrote in his nomination letter, "the Illinois Governor's Office is egregious in violation of FOIA law due to their lack of timely response, which is causing great strife to the public seeking the records."
"It has been proven multiple times that Rauner's office is abusing FOIA and keeping secrets."
We take great pleasure in this national reporting as members of the SPJ but more so because they actually used our work as a contributing factor to this Dishonorable Mention bestowed on the Worst Republican Governor in America.
Thank you to SPJ for exposing our Governor and his administration at the national level.
.
Our work is funded entirely thru donations and we
ask that you consider donating at the below link.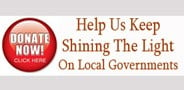 Photo credit to Politicus USA