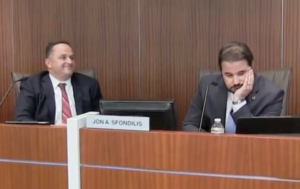 WHEELING, ILLINOIS – (ECWd) –
Illinois Attorney General Lisa Madigan's Public Access Office (PAC) informed the Village of Wheeling on Friday, October 13th that an inquiry has been opened and "further action is warranted" by the PAC office concerning what we believe were egregious violations of the Open Meetings Act (and the public's basic civil rights) on September 18th (during the Village's back-to-back, yet separate, Liquor Commission and Board meetings).
Klein Thorpe Jenkins attorney James V. Ferolo represented the Village during both meetings that day; his horrendous behavior is preserved on YouTube and has been the focus of the previous reporting. Ferolo repeatedly disrupted the meeting (without ever being given the floor or having any right or authority to speak), to berate, abuse, heckle, bully, threaten, and castigate members of the public who wished to exercise their constitutionally-protected Right to Petition government officials.
The inquiry now being made by the Attorney General PAC Office into Open Meetings Act violations that we argue occurred on September 18th focuses on the Village of Wheeling and its Klein Thorpe Jenkins attorney (Ferolo) repeatedly interrupting speakers who had the floor during public comment, dictating what topics could and could not be spoken about, and enforcing unreasonable rules against speakers that violate section 2.06(g) of OMA (5 ILCS/120/2.06(g), West 2016).
There is ample precedent found in previous letters of determination issued by the Public Access Counselor's office to see that it is a violation of the Open Meetings Act for a public body (or its Klein Thorpe Jenkins employed attorney) to repeatedly interrupt someone who is speaking during public comment. Such interruptions are unreasonable and make it impossible for a member of the public to adequately address a public body once given the floor to speak. Likewise, public bodies are not allowed to restrict the content of speech, as such censorship of what the public wishes to address with public officials during open public meetings does not pass constitutional muster under the First Amendment. The OMA does not empower public bodies to in any way abridge, usurp, or abjure the Constitution of the United States and the freedoms it guarantees. Any rules written by a public body that violates the Constitution in any way are by nature unreasonable and thus unenforceable; the OMA does not allow a public body to write any rule restricting public comment during meetings that run afoul of basic civil rights.
The Village of Wheeling has been given seven business days from Friday, October 13th to respond to the Attorney General's office with whatever inventive excuse the brain trust over at Klein Thorpe Jenkins can presumably concoct for the entirely indefensible behavior on display by Village officials and James V. Ferolo on September 18th. There is a well-documented history of Klein Thorpe Jenkins as a firm laughably trying to claim that their public body clients are allowed to do whatever things those clients have been caught doing. (It never works and the public bodies involved seem to lose these arguments, either in court or before the PAC.) Instead of owning up to mistakes and admitting wrongdoing and moving forward, public bodies who employ Klein Thorpe Jenkins seem to have a money-wasting track record of fighting both the AG's office and the public…and losing. It is a mystery why anyone allows this pattern to continue.
We are confident that the Village of Wheeling will lose in this matter and that the inquiry at hand will culminate in yet another letter of determination establishing that yet another client of Klein Thorpe Jenkins has violated the OMA.
Because the trampling of basic civil rights at these meetings in Wheeling is so blatant and egregious (and is all posted to YouTube), it would surprise no one if in addition to the AG's inquiry the Village also finds itself hauled into either chancery or federal court (or both!) to explain to a judge why they have been flagrantly violating the law, particularly in regards to the stomach-turning cruelty that the Village continues to show towards Wheeling resident Deborah Wilson.
At some point, citizens of Wheeling should ask the question: Why is the Village paying so much money to the Klein Thorpe Jenkins law firm when the things that attorney James V. Ferolo says and does during these meetings appear to land the Village into trouble deep enough for the Attorney General's office to open an inquiry? 
.
[documentcloud url="http://www.documentcloud.org/documents/4109352-49820-FI-Let.html" responsive=true]
.