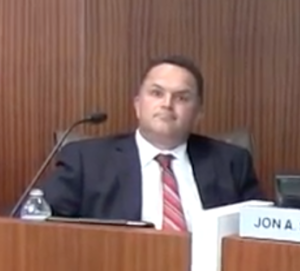 WHEELING, ILLINOIS (ECWd) —
On Monday September 18th 2017, the Village of Wheeling engaged in something similar to a crime spree when it comes to trashing both the Open Meetings Act (OMA) and the United States Constitution (specifically the First Amendment's right to petition government bodies for redress of grievances). As recorded on video (and no doubt preserved for a judge and jury to watch for themselves down the line), the Village of Wheeling made the catastrophic choice to listen to the legal advice given during the meeting by attorney James V. Ferolo of the notorious law firm Klein Thorpe Jenkins; this is a firm with a well-earned reputation around the Chicagoland area for giving public bodies the "green light" to aggressively violate the OMA and trample the public's civil rights.
Observers of Klein Thorpe Jenkins through the years have detected a pattern that repeats itself wherever this firm is hired by a public body. It can't be just a mere coincidence, since this happens so often and the behavior of Ferolo at the Wheeling Village meeting was so similar to the way that other KTJ attorneys have behaved themselves at previous meetings in Orland Park, Tinley Park, Bellwood, Oak Forest, and other localities around Chicago.
The pattern is this: an attorney from Klein Thorpe Jenkins (be it James V. Ferolo or other KTJ legal eagles such as James Fessler, Dennis Walsh, E-Kenneth Friker, Thomas Melody, etc.) interrupts the public while a citizen is speaking, despite that attorney neither having the floor nor possessing any legal right to take away someone's public comment time. The elected board members all sit quietly as the KTJ attorney does their dirty work for them to bully and silence the public. The KTJ attorney insists that the board can dictate what a person can or cannot speak about during an open public meeting when that is not only false but is unconstitutional. The KTJ attorney shouts angrily at the public in a menacing way because the net result desired by the public body is for the public to be afraid to speak out about whatever upsetting thing the public body has been doing.
After more than four years of observing Klein Thorpe Jenkins in action and seeing attorneys from this same firm assist public bodies in violating the OMA and the First Amendment in exactly the same ways over and over again, it is hard to see James V. Ferolo's behavior as nothing but deliberate. Because previous KTJ attorneys such as James Fessler, Dennis Walsh, E-Kenneth Friker, and Thomas Melody all lost (and were humiliated for!) attempts to bully and silence the public during open public meetings, a reasonable person would logically assume that this firm would have held some kind of meeting (or at least sent around an internal memo) telling its attorneys not to violate the OMA any longer. That's assuming that any of these legal eagles actually didn't understand the law and thought they could actually behave themselves so terribly in public. When a half dozen of your colleagues are busted for doing something horrible, wouldn't you hear about it by the water cooler and make a mental note to not do that very thing yourself?
Unless, of course, the whole point of Klein Thorpe Jenkins sending a body to sit in a chair in these meetings is to do exactly this to the public, on purpose. This is the niche that this one offensive law firm appears to occupy in Chicago's legal community: if a public body wants to take an aggressive stance against the public and discourage public participation and oversight of a public body, then they hire Klein Thorpe Jenkins because this is the firm that is known for sending out guys like James V. Ferolo to harm the public and apparently provide assitance to public bodies to violate the OMA with egregious bullying tactics.
What follows is a quick rundown of some of the myriad ways in which Ferolo and the Wheeling board violated the OMA and the public's civil rights on 9/18/17 during both the Liquor Commission meeting and the subsequent Village meeting:
(1.) A public body is not allowed to dictate what the public is allowed to speak about at ANY open public meeting. If any public entity is holding an open public meeting, the Open Meetings Act requires that public body provide the public a right to speak.  The OMA allows a public body to eastablish reasonable rules: to limit the amount of speaking time a person has (Wheeling allows 5 minutes per person per meeting); to set a limit for the total amount of time that the public comment portion of the meeting can take (for instance, they could say that public comment may last a maximum of 30 minutes); and the public body is allowed to decide where on its agenda public comment will be held (in the matter at hand, Wheeling front-loads public comment at the very beginning of meetings). That is it.
(2.) The Open Meetings Act guarantees that the public has the right to speak at a public meeting but it is the overarching First Amendment right to petition on any topic that trumps all attempts to restrain or censor speech. Repeatedly during the Liquor Commission meeting, James V. Ferolo angrily shouts and hollers at the two citizens who came to address grievances before the Village of Wheeling board. He tells the public that they can only speak about the Liquor Commission but this is a violation of the public's First Amendment rights because no public body can tell you what you can or cannot speak about. No public body can decide what is relevant. Elected officials are not allowed to dictate what they want to listen to when it comes to members of the public exercising their First Amendment right to petition. A public body CANNOT censor any topic or decide what narrow things you are allowed to speak about. Any such censorship or restrictions is unconstitutional (and a decent attorney would know that).
(3.) The Village of Wheeling Board has established rules for who has the floor during public comment; in the videos below, watch attorney James V. Ferolo aggressively and repeatedly violate those rules by interrupting people when they are speaking. He was never given the floor or the right to do this. Observers of Klein Thorpe Jenkins should note this is a common practice for their attorneys. When a member of the public is presented their 5 minutes to speak, they have the floor. The Village attorney is not a board member and has no right to interrupt, heckle, bully, harass, or otherwise intimidate or frustrate someone who is trying to petition the Village board on some matter. It appears that Wheeling allows Ferolo to do this because the board doesn't want to hear from the public. So Ferolo's role is to illegally shout at people, abridge their First Amendment rights, and be the board's highly paid bully. Why do the citizens of Wheeling allow their tax dollars to pay Klein Thorpe Jenkins to bully and menace the public in this way?