COLES CO., IL. (ECWd) –
The former Sherriff of Coles County, Darrell Cox, who was publicly outed during his campaign (by the Edgar County Watchdogs – not by Phillips) for illegally selling guns in violation of State Law and in violation of Court Orders (WTHI article here), has decided to chime in and urge people to vote for Kaye, who has had his own bouts with the law.
Cox was also publicly outed for conducting business between his own private company and the Coles County Sheriff Department (article here) – a criminal conflict of interest.
Cox was caught lying under Oath, drinking prior to shift as a Sherriff Deputy, withholding information (article and pdf), conspired with others to cover his tracks, and sexually assaulted a co-worker by grabbing her breast and even betting that he could get away with it, bad behavior with progressive discipline over 17 years, tried to hide public records but we got them anyway (click here for that massive embarrassment), lied about his budget (HERE and HERE),
The Bureau of Alcohol, Tobacco, and Firearms ("ATF") is currently investigating the situation with Darrell Cox – it is not over for him yet.
We are still gathering data from Cox's time as Sherriff and will post that article in a few months when we finish gathering all of it – it is worse that anything we have written on him so far.
After his failed election run, the Coles County State's Attorney sent out a letter to all law enforcement in Coles County warning them that it is in fact a violation of law to continue to sell guns. (click here to read the letter) He tells them it violates State Law, just as we wrote about prior to that election. He is not the only Sheriff we wrote about that was illegally selling guns.
Cox talks about the "court history" Reggie Phillips has, and we covered all that in 2014 (HERE) noting that it was all civil cases and in the normal course of business. But Cox failed to mention that in his letter to the editor.
Darrell Cox's letter to the editor – click to enlarge: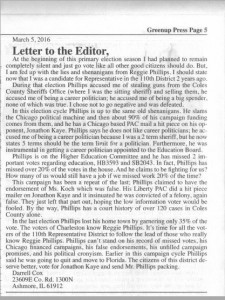 Every single thing we published about Darrell Cox is true, the public records obtained thru the Freedom Of Information Act and the Circuit Court are included in the articles, and it was us that did it, not Phillips. Cox accuses Phillips of communicating with the Liberty Principles PAC, which Cox lied about, but he doesn't care, he is still sore from the beating he took at the last election where he thought he won and was in the process of celebrating at the local bar, only to find out he was given the wrong information (what a party-killer that had to be LOL) and actually lost.
We are not here to tell you who to vote for, but we do ask that you please research the history of Darrell Cox before you believe anything he has to say as there is nothing worse than supporting a candidate based on lies told by a law breaker himself.
Please consider a donation to the Edgar County Watchdogs.
[wp_eStore_donate id=1]