Piatt Co. (ECWd) –
While the Piatt County Board Chairman, Ray Spencer, is facing multiple criminal indictments for alleged Official Misconduct and Forgery, his problems may grow and actually implicate the rest of the board members.
The law specifically outlines the criteria for County Board member's compensation.
"shall be computed on a per diem basis, on an annual basis or on a combined per diem and annual basis, and shall fix the amount of that salary." (55 ILCS 5/2-3008)
The compensation setting resolution currently being used by the criminally indicted chairman and the full county board is not based on any of the limited compensation basis found in the law.  Instead of following the law, the board adopted a pay per meeting schedule of $75.00 for each County Board meeting and $60.00 for each County Board Committee meeting.
Such a resolution is not consistent with the law.  If the law were to actually allow the type of compensation they adopted, the sky is the limit when it comes to putting money in their own pocket.  Need a bump in pay, schedule a meeting.
While we do not currently have all claims submitted by all county board members, we do have those for the chairman and they paint a very disturbing picture.
How many meetings can a county chairman attend in one month?
Indicted Chairman Spencer turned in compensation claims for attending 30 meetings in September of 2019.  One county board meeting and 29 committee meetings.  He also claimed 380 miles for mileage reimbursement that month. So in one month, Spencer claimed $2,035.40 for meetings and mileage.
However, reviewing the actual report submitted by Spencer, he included payments for more than just county board meetings and committee meetings.  Fifteen of the claimed meetings ($900.00), were not for either county board or committee meetings. Not only is the compensation resolution inconsistent with the law, but it also contains no provision for the chairman or any county board member to be paid for what Spencer lists as "other" on the claim form.
For example, Spencer got paid for a meeting with the State's Attorney and Assistant State's Attorney, a conference call, and EMA classes.  The State's Attorney had no knowledge of the meeting found on the claim form, there is no provision for getting paid for a conference call, and EMA classes are not meetings.  It appears many of the claims could be considered a false claim and possibly a false entry and misapplication of funds as defined in the criminal code.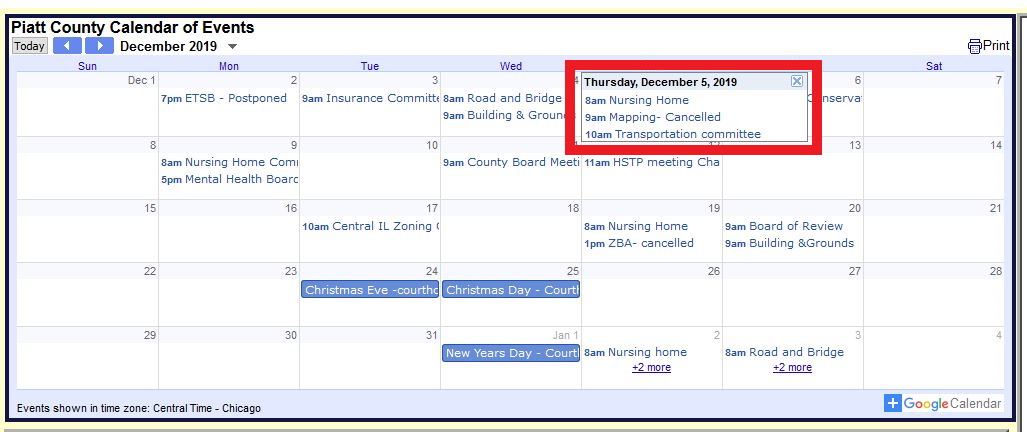 Another example of what is sure to be problematic for Spencer is submitting a claim to be paid for a meeting even though the actual record reflects the meeting was canceled.  Submitting a claim for a meeting that never took place would be considered a form of fraud in most people's eyes.  On December 5, 2019, Spencer was paid for attendance at a mapping committee meeting.  According to the screen capture of the calendar, that meeting was canceled.
We have requested the agenda and meeting minutes for all the committee meetings held in 2019 and 2020 and will update this article when we receive them.
Spencer appears to be a meeting attending junky as we have never seen any county member attend so many meetings.
January – 16
February – 20
March – 25
April – 21
May – 24
June – 22
July – 21
August – 27
September – 30
October – 29
November – 25
December – 18
We encourage the authorities currently handling the criminal investigation of the county chairman to take a hard look at all claims being submitted by this county board member and others as just a peak has identified serious concerns that begin with a resolution that is not compliant with the law.
.
Our work is funded entirely thru donations and we
ask that you consider donating at the below link.