CARLINVILLE, IL. (ECWd) –
Today, the Illinois Attorney General's Public Access Counselor has determined that the City of Carlinville improperly denied my request for public record under the Freedom of Information Act by claiming that it was for a commercial purpose. Read the determination at this link (here) or below.
According to the determination letter, the Attorney General repeatedly asked the city of Carlinville and its attorney Dan Schuering to respond to their request for a detailed explanation of their claim.
Twice, Carlinville's attorney Dan Schuering and the city of Carlinville failed to respond to the Attorney General's inquiry.
After Carlinville's defeat in Sangamon County Circuit Court (2017-MR-25) of a previous FOIA request of mine in which they also improperly claimed was for a commercial purpose, the Attorney General decided to issue its opinion on this request for review.
Here's the final determination:
"This office has not received any information demonstrating that Mr. Kraft intended to use the records requested, or information derived therefrom, for sale, resale, or solicitation or advertisement for sales or services, or that he did not fall within one of the enumerated exceptions in section 2(c-10). Accordingly this office concludes that the City improperly treated Mr. Kraft's February `15, 2017, FOIA request as seeking records for a commercial purpose."
The enumerated exceptions (to being labeled as for commercial purpose) found in Section 2(c-10) of the FOIA are as follows:
(c-10) "Commercial purpose" means the use of any part of a public record or records, or information derived from public records, in any form for sale, resale, or solicitation or advertisement for sales or services. For purposes of this definition, requests made by news media and non-profit, scientific, or academic organizations shall not be considered to be made for a "commercial purpose" when the principal purpose of the request is (i) to access and disseminate information concerning news and current or passing events, (ii) for articles of opinion or features of interest to the public, or (iii) for the purpose of academic, scientific, or public research or education. 
Of course, we tried explaining that to Schuering and the City Council during public meetings, but they were hearing nothing of it. Now they must produce those records that I request on February 15, 2017.
Please feel free to donate to the furtherance of news media and not-for-profit publication of the happenings of local governments across the great state of Illinois at the link below:
.
Our work is funded entirely thru donations and we
ask that you consider donating at the below link.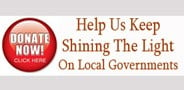 .
[documentcloud url="http://www.documentcloud.org/documents/4630749-CARLINVILLE-47001-F-31-Comm-Req-Improper-Mun.html" responsive=true]