Illinois (ECWd) –
Once again we find Illinois Governor Rauner is not only an established fabricator of truth but also one who is the recipient of a binding opinion from the Attorney General's PAC office for not disclosing public records that would expose your tax dollars are being used for outside legal counsel with state agencies.  Of interest in this opinion, the date, October 21st, 2015.  Less than a year into his term he violated our Freedom of Information Act by keeping secret the names of private attorneys being paid with your tax dollars.
More concerning than the refusal to provide the public records is the fact the Governor and relevant state agencies under his control intended for the names of these attorneys' to remain confidential.
"The response added that the "Governor's Office and relevant state agencies intended that these lists remain confidential. "
My initial thought when I read that, "who the hell do these people think they are"?  Where on earth do they get the idea that they can hire attorneys, pay them with our tax dollars, then not disclose the information?
The opinion also states:
"This response implies that the Governor's Office does not believe that FOIA requires it to compile and provide Mr. Dumke with any responsive information in its possession or under its control related to outside counsel that is not reflected in the lists that were withheld."
The AG PAC response is priceless:
"That belief is incorrect"
Considering the Society of Professional Journalists just a awarded Rauner the Black Hole Award-Dishonorable Mention, we would say this is yet another justification for the award.
The people of this state should be outraged with any public official's attempt to keep spending secret, especially when it is the Governor of the state. In this case, we want to know how much and to whom!
We are still trying to confirm if the requested information has been released and will update when we have the information.
Binding PAC Opinion 15-010 (003)

.
Our work is funded entirely thru donations and we
ask that you consider donating at the below link.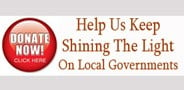 Photo credit Crains Chicago Business