CHRISMAN, IL. (ECWd) –
More alleged electioneering using public resources. This time it is in a school building in Chrisman.
In addition to the 6 School Superintendent's electioneering with public resources detailed in a previous article (here), we now find campaign signs for the Michael Smith for ROE #11 Superintendent Campaign being stashed in an office room in Chrisman Schools (Edgar County CUSD #6) – we understand they are no longer in this room, but have been moved to a different room.
Chrisman Schools Superintendent is none other than Jim Acklin (read about him here) – although he is only part-time, we believe his endorsement of Michael Smith may have led to those signs being stored in a Chrisman School Office.
Smith has already been exposed for his use of a particular phrase to describe Mrs. Mattingly, has been exposed for his prohibited political activity thru using public resources for electioneering, and now we find his campaign signs in a school building.
Just one more Ethic Commission that needs to be hearing complaints of this type.
.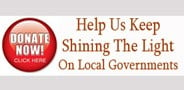 <