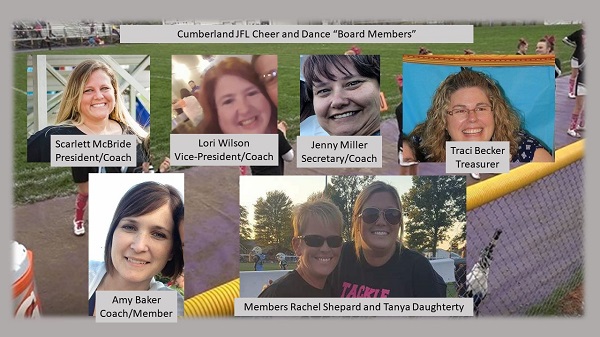 CUMBERLAND CO., IL. (ECWd) –
Before discussing the issues brought to us by numerous people, which precipitated the subject of this article, we ask that all of the cheer parents who posted comments on our previous article entitled "Cumberland Jr. Football made us feel at home in Greenup" reflect for a while on what they actually posted on our Facebook page and that of the Toledo Democrat. During that reflection, please consider the By-Laws or Rules, that each of you allegedly signed which talks about:
–          Act like a team even off the field
–          You represent yourself and the school
–          Don't argue to the extent to cause harm, whether physical, mental or emotional
–          Unsportsmanlike conduct will not be tolerated
During reflection of your past written comments, we invite you to self-correct and remove yourselves and your children from the CJFL Cheer Team…"forever". After all, precedence has been set with the ejection of another for alleged violations of the same rules, it is the right thing to do at this point, and please do so prior to any end-of-year parties. We urge the "board members" to take immediate action and send letters to those parents involved. Those parents represent what the Cumberland JFL Cheer Organization is all about – and it appears to be very unflattering.
Our previous article about my very real experiences last Sunday on the Cumberland School District High School Football Field, mentioned my belief that this group of people was collectively perfecting the art of bullying, and here is just one example (click here) apparently done for the sole reason of extracting some type of revenge against the author – more on this later.
Comments were requested of the CJFLCD – None Provided
We sent an email requesting comments form this organization to the following questions:
1. What exactly was the issue that the parent did which allegedly violated the team by-laws or rules causing her daughter to be removed from the cheer team?
2. How many times did it occur?
3. Did it occur during a cheer activity?
4. Is your organization registered with the Illinois Secretary of State to do business in Illinois?
5. Is your organization affiliated with the school district?
6. Is you organization registered with the Illinois Attorney General's Charitable Trust in order to legally accept donations/fundraisers in Illinois?
7. Is your organization registered with eh Internal revenue Service as a business or a non-profit / not-for-profit.
8. Is your organization registered with the County as an "assumed name" entity?
9. Does your organization maintain insurance for its activities?
10. Does your organization have any agreements with the school district or the school to use its facilities?
11. How many years has your organization been in operation?
12. When conducting any 50/50 raffles, etc., does your organization obtain the appropriate raffle license(s) from either the city/village or county?
13. Does your organization operate under a larger cheer association or other like organization?
14. Any comments on anything I may not have covered?
We know they read the request for comments because we received a return receipt when it was read.
With no one in the organization willing to comment on these issues, we are left with using public records to verify information about this alleged organization.
This is not the only organization in Cumberland County we believe are operating without any legal authority to operate.
Conducting Business Without Proper Licensing/Registration
After checking with the Illinois Secretary of State's Office to see if this organization was registered to do business in the State of Illinois, I found there was no such entity listed as a legitimate business in this state.
Since there were rumors this was a non-profit, I checked with the Illinois Attorney General's Charitable Trust Bureau to see if they were registered as a non-profit for the purposes of soliciting or accepting donations. They are not listed in the online database. I called the Bureau to verify the accuracy of the database and was told they were not registered and have never been registered.
Without proper licensing, it should not be too far of a stretch to think they do not, and have never had any insurance to protect themselves, the participants, and the school district where their activities are conducted.
Gambling and Keeping a House of Gambling Without Permit/License
According to reports made by parents, and their own "financial report" posted in the Toledo Democrat (here), this organization has conducted 50-50 Raffles this year.
Illinois State Law regards that as conducting a Lottery and says it must be licensed.
There has never been any gaming permits, nor would there have been, for the 50-50 drawings taking place with the Cheer teams. According to the Illinois Raffle and Poker Runs Act, a permit is required prior to conducting any raffle (which includes a 50-50 raffle). In order to qualify for a permit, the organization must be a non-profit. Incidentally, gambling and related offenses are criminal offenses. Some other minor restrictions apply, including the definition which organizations may qualify and how long they must be in legitimate business prior to obtaining a permit.
When an organization takes action against a child, justified or not, that organization should be no less compliant with rules, and in this case, laws.
Why is it OK for a group of people to form a group and operate in violation of our laws, but not OK for parents to inquire for an accounting of the money they have spent with the said organization – even if the inquiry was after alleged rules violations?
.