Illinois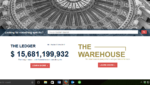 – (ECWd) –
You may recall we covered the hitting of the highest reported vendor debt of $15.34 Billion way back in the beginning of September……..of this year – on September 4th, 2017. 
Well, here we are updating that breaking news with more breaking news, it's worse and it's only been eleven days.  Today set a new high in vendor debt obligations being reported by the Comptroller's office, which now tops $15.68 Billion dollars.  That equates to a $340,617,026 million dollar increase in 11 days, or roughly $30,965,184.18 dollars a day!
Yes, just under 31 Million dollars a day deeper in the hole, in spite of increased income tax, property tax, budgets etc.
Only in Illinois will politicians continue to do the same thing they have always done and expected new results, which we all know is not how it works.
This is bad!
Note that if you go the comptroller web page the actual number may be higher or lower as it changes regularly.  The photo below is a screen shot from today at 7 pm Central time!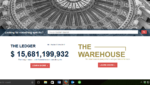 .