Illinois (ECWd) –
The sky is falling, the sky is falling!  We need a budget because the sky is falling.  We need a tax increase because the sky is falling.  Really!
Ok, not really, although that is basically what we have been told for the past two years.  The budget impasse brought state projects to a halt, which means the well-greased machine, known as the political machine, didn't work too well.
They told us they needed a tax increase to pay down the vendor debt because it was over $14 Billion at the time, not to mention politicians love tax increases.
So, here we are a couple of months into the great new unbalanced budget and income tax hike and what good has it done for those things they told us it was going to take care of?
Current vendor debt is a whopping $15,340,582,906.00.  Yes, $15.34 BILLION Dollars in debt, just to vendors.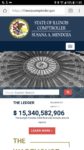 According to the Illinois Comptroller web site, the current vendor debt obligations this state is facing is approximately a Billion more than it was when budget and tax increase was passed. Keep in mind; the web site reflects a new number about every other or third day based on what I have seen over the last two months I have been monitoring it so when you check it the number may be higher or lower than what we are reporting on this great Labor Day!
So what is the takeaway from this? Not much, other than little we are told by politicians are true and more often than not, none of your taxes are going to go down unless you get involved and stop those tax increases from the local level first and foremost, as those are the ones eating you up the most.
I don't know of too many public bodies that have reduced taxes as most don't really analyze the numbers to see what they need to make ends meet.  I know in our Mult-Township we reduced our levy by 30% and there is room for more.  Doing so raised concern from one of the Republicans on the board who proudly said, why did we lower it, I raised it 5% every year when I was the Chairman.  That statement was an indicator.  They were shocked to find out they did not need near what they were taking from the people.  They just took it becuase that is what they do, each and every year!
In Illinois, with the exception of those few counties that have adopted PTELL, a property tax extension limitation law, most public bodies raise your taxes every year at least 5%.  If they want more they just have a hearing and since no one pays attention or shows up to put pressure on them, they raise it even higher.
Dog pile the out of control state spending and corruption, with all the local spending and corruption, and you have a state that is on a path of self destruction.
Until we get involved and take proactive steps to reduce our taxes at every level, I believe we are going to continue to see a mass exodus from Illinois as the fact of the matter is clear, more taxes are NOT fixing anything, other than public sector paycheck increases and benefits every year on the backs of the people.  That is not how a Republic is supposed to work!
.