Wheeling, IL. (ECWd) –
During the June 19, 2017 Village of Wheeling Board of Trustees meeting, Trustee Ken Brady yelled out at young lady:
"We've Heard From You – Shut Up!"
This outburst of Wheeling Trustee Ken Brady comes just minutes after fellow Trustee Mary Krueger said people relinquish their First Amendment Right when it involves speech she doesn't like (click here for article).
What he should have done in that situation was to let the Village President exercise his authority to control the meeting. Brady had no right to tell her to shut up, however, the president had the right to gavel her out of order and to ask her to refrain from further comment.
Later in the same meeting, he asks for a vote, and convinces the board to vote in favor of sending a letter, on behalf of the board of trustees, to local governments and other people in reference to "having faith in their employees" – the board later voted unanimously in favor of sending the letter on behalf of the board. This was an action taken in violation of state law.
This subject was not listed on their agenda (click here for agenda) for discussion or action, making the action taken by way of the vote, an illegal vote and a violation of the Open Meetings Act. Violations of the OMA are listed as crimes under Section 4:
5 ILCS 120/4) (from Ch. 102, par. 44) 
    Sec. 4. Any person violating any of the provisions of this Act, except subsection (b), (c), (d), (e), or (f) of Section 1.05, shall be guilty of a Class C misdemeanor. 
(Source: P.A. 97-504, eff. 1-1-12; 97-1153, eff. 1-25-13; 98-900, eff. 8-15-14.)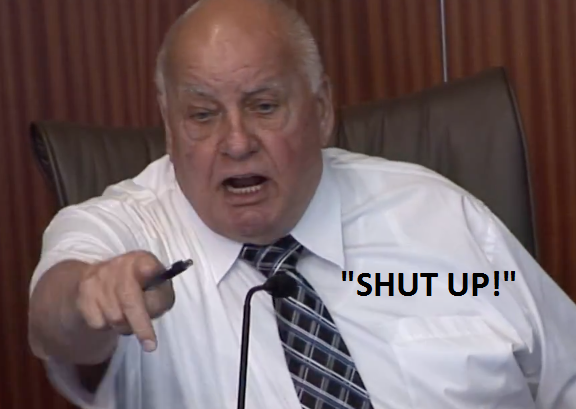 The Legislature was pretty clear on that one…
Mr. Brady, we suggest you publicly apologize for your rude comment to the young lady and ask the board to publicly apologize for their willful and intentional violation of the Open Meetings Act. We will talk about the letter in future articles.
.