Wheeling, IL. (ECWd) –
During the June 19, 2017 Village of Wheeling Board of Trustees meeting, Trustee Krueger said that when addressing the village board with things they don't like to hear, you lose your first amendment rights.
What did she say?
Watch it below:
.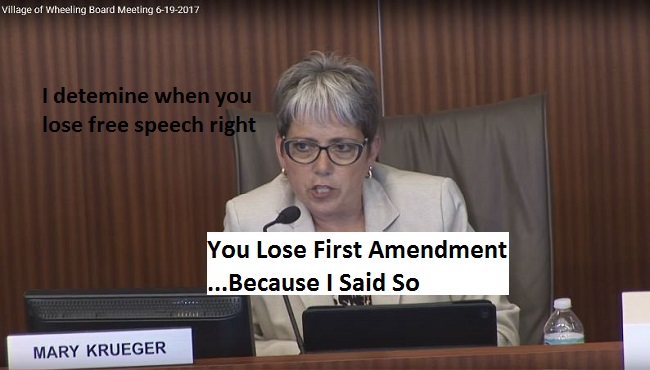 We think the United States Supreme Court would have problems with her claims of losing the right to free speech and the right to petition your government – and they just rendered a unanimous decision this year which basically says hate speech is free speech and as such is protected under the First Amendment (read the Daily Wire article here).
Read some of the quotes by the Justices, it almost sounds like they are talking to Ms. Krueger, like these quotes:
"The proudest boast of our free speech jurisprudence is that we protect the freedom to express "the thought that we hate"
"A law that can be directed against speech found offensive to some portion of the public can be turned against the minority and dissenting views to the detriment of all"
So Krueger wasn't talking about "hate speech" but rather what she considers lies?
The SCOTUS struck down the Stolen Valor Act in 2012 with a decision, United States v. Alvarez,  stating that "false statements of fact do not fall within one of the restrictions on freedom of speech"…or…"you have a protected right to lie" (with very limited exceptions) and just because someone thinks you lied, does not mean they can restrict you from saying it.
Don't get us wrong, we are not suggesting hate speech or lying is something people should do, but instead are advocating for the First Amendment and a person's right to free speech, and that Ms Krueger does not get to determine what is or is not a person's right under the First Amendment.
The bottom line is this: Ms. Krueger you are wrong, and should publicly retract your statement at the next Board of Trustees meeting.
.