LaSalle Co. (ECWd) –
LaSalle County case 17CF15 has been filed against Pietro Mautino who is the son of Illinois Auditor General Frank Mautino.   According to local reporting, court records show the alleged illegal possession of drugs took place in September of 2013.  That leads to the question as to why no charges were brought during Brian Towne's control of the State's Attorney office? The same reporting indicates a Special Prosecutor filed the papers on this matter, not the current State's Attorney.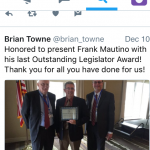 Does the fact Towne honored Mautino with his presentation of the Outstanding Legislator Award shown in this picture in 2015 have anything to do with no charges during Towne's reign in that office? Was Towne so close to Mautino that he provided cover for his friend's kid?
As records are made available we will update accordingly as we would like to know why now, almost three years later, that charges are being brought by a special prosecutor, an office that Towne used to be the Chairman of the Board for, where he magically got a full-time job after losing his re-election attempt last November.
Towne is also the subject of other criminal investigations and potential criminal charges pertaining to his handling of drug money seized by the illegal police force he was operating.  Those funds were the property of LaSalle County and he provided those funds to another public body without proper authority.
LaSalle County is the face of many scandals and from the results of some of the recent elections, the people are waking up.
Scandals in LaSalle County that we know of include the following:
Illinois Auditor General Frank Mautino's Federal criminal investigation pertaining to his campaign fund spending
Illinois Auditor General Frank Mautino's State Board of Elections complaint pertaining to his campaign fund spending.
Brian Towne and the creation of an illegal police department
Brian Towne and the missing drug money
LaSalle PD Officer Strand and the meeting with an alleged prostitute
LaSalle PD K9 unit getting disbanded, in what appears to be retaliation for good cops stepping up and reporting on bad actors in their own department.