Cook Co. (ECWd) –
Although I disagreed with the method of teaching being used to curb violence in the city, as outlined in my July 2014 article, it does appear that the counselor may have very well spoken some serious truth in light of all the cop shootings being exposed in Chicago recently.
An opinion from the US District Court today appears to confirm, the Chicago Police have a serious problem on their hands and by all indications they have created it!
Mosqueda claims he heard the description of the Aurora over his police-car radio
At various times before and during this litigation, Mosqueda has claimed that the OEMC call, which he heard over the police-car's "Zone" radio, warned that the Aurora was wanted for a shooting or that there might have been a gun in the car
"The officers opened fire, killing Pinex"
A recording was available. But Plaintiffs did not get it.
Documents identifying the location of the recording were also available. But Plaintiffs did not get those either.
The discovery responses that they did get led them to believe that no recording of the call or documents were available.
"Plaintiffs reasonably concluded that Mosqueda was lying—that is, he actually had heard nothing, and the officers executed an overly aggressive traffic stop for their own reasons or no reason at all."
The actual recording did not mention that the Aurora had a gun or that the car was wanted for a shooting
First, it has shown that Jordan Marsh, one of the City Law Department lawyers representing the officers and the City of Chicago, learned about the OEMC record before trial and knew that the recording might still be available
The Court has no choice but to conclude, based on the record evidence, that Marsh intentionally withheld this information from the Court, from Plaintiffs, and even from his own co-counsel
Second, post-trial discovery has shown that, in response to Plaintiffs' discovery request seeking the recording and related documents, Thomas Aumann, another Law Department lawyer for the officers and the City of Chicago, failed to make a reasonable inquiry, as required by the discovery rules, to  search for the recording and responsive documents.
"Because of the recording's untimely disclosure, the first trial was unfair and Plaintiffs' trial presentation was hurt beyond repair by the surprise."
"And because Marsh's and Aumann's misconduct thwarted Plaintiffs' trial preparation and trial efforts, Plaintiffs are awarded their attorneys' fees and costs expended on preparing for the first trial, conducting the trial itself, and conducting the post-trial discovery and briefing."
If the details in this Federal Judge's opinion does not end up with city officials facing criminal charges then there is little hope of ever fixing the wrongs citizens of Chicago are facing in my opinion.
The people of Chicago deserve better!
[gview file="https://edgarcountywatchdogs.com/wp-content/uploads/2016/01/PINEX-Opinion-Santions-New-Trial.pdf"]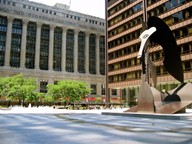 Please consider a donation.
[wp_eStore_donate id=1]