Clark Co., IL. (ECWd) –
During today's court hearing, Summer Shaw, former Clark County Circuit Clerk employee and the daughter of the Circuit Clerk entered a guilty plea to a Class 4 Felony of "Theft of less than $500 from the government".
She was sentenced to:
30 hours of public service
payment of costs
payment of restitution
24 months of probation/special conditions
with a "withhold judgement/2nd chance" provision, which means if she is successful in all of the above, there will be no finding of guilty by the Court
Shaw was charged after an investigation into a complaint that her mother (and Circuit Clerk) Kathy Ramsey had clocked her in and out of work at the Circuit Clerk's office at times she was not present and not working. See this previous article (here).
Ramsey entered a Not Guilty plea and demanded a trial by jury. Arraignment was waived and further pre-trial is scheduled for February 22, 2016 at 2:00 p.m. in Clark County Courtroom 2.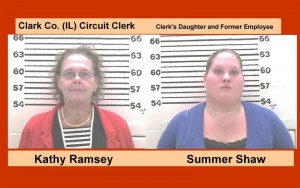 .
Please consider a donation.
[wp_eStore_donate id=1]
.