Will Co. (ECWd) –
Joliet Township Officials ignored the exposure of their malfeasance for years which included ghost contracts, no bid contracts, and out right abuse of power that included physical violence by the former Clerk against Supervisor Dan Vera.  While the Will County States' Attorney has done nothing to address many of the alleged criminal acts, it appears the people, specifically the local Democrats have taken it upon themselves to remove a group of their own political party.
For those wondering, Joliet Township has quite the history of questionable actions that can be read in numerous articles at this link.
The local Patch ran an article quoting the newly slated Supervisor Angel Contreras comment as to why he chose to run. "I just wanted my opportunity to show I can be the head and manage a local government body from all the experience that I've been very privileged to be a part of," he said. 
Angel Contreras is the Vice Chairman of the Joliet Township High School District 204.  Of interest, according to the Illinois Comptroller, The School District has not provided its required documentation to the Comptroller for the last three years.  Considering Contreras is wanting an opportunity to show he can be the head and manage a local government we can only wonder what that means in light of the School Board he Vice Chairs' failure to provide key records to the Comptroller for three years.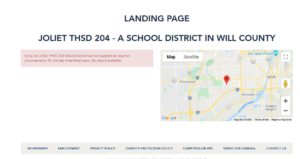 We understand the Republicans also ran a full slate of candidates.
It will be interesting to see how the voters address all the problems in Joliet Township come April 6, 2021.  Stay tuned as we are confident there will be plenty more to share moving forward.