Shelby Co. (ECWd) –
The Stewardson Fire Protection District, based on the photo, has violated the law by electioneering on government property.  The sign is informing the public how to vote on a referendum.  This type of activity is prohibited under the State Officials and Employee Ethics Act, or in some local governments, their own local Ethics Ordinance as well as being prohibited under Article VIII, Section 1(a) of the Constitution.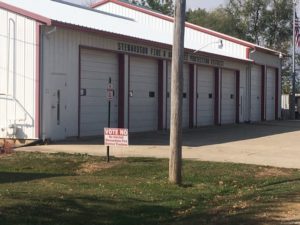 While electioneering on government property is a concern, another concern is found within the Illinois Comptroller's Annual Financial Reports for the Fire District.  According to the Comptroller, the District's 2019 AFR is delinquent.   Considering the District does not meet the threshold for an annual audit, the AFR is the only annual report to the people regarding their finances.
Considering little to no checks and balances exist when a County Board makes these types of appointments, it's no surprise to see an effort to force the trustee positions to be elected.