Shelby Co.  (ECWd)-
With the recent exposure of Shelby County Highway Engineer by Doug Wolfe with Channel 17 in this story, we wonder if this is the beginning of the sinking of the S.S. Spesard.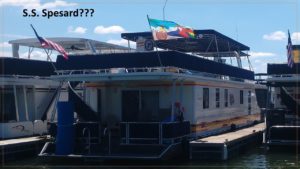 The actual name of Spesard's houseboat is "Feelin Groovy", currently docked at the private dock in Lithia Springs, Lake Shelbyville, Illinois. While the actual boat does not appear to be sinking, we wonder if Spesard himself will stay afloat after exposure of his private business operations from county facilities.

We understand County Chairman Cannon and Shelbyville City Mayor Jeff Johnson are now working behind the scenes to create an intergovernmental agreement between the county and the city so that Spesard would be able to use his position as County Engineer to do Engineer work for the City.   It's as if they see nothing wrong with what has been going on for 21 years right under their nose.  In fact, Cannon tried to justify Spesard's activities during one of the committee meetings, by claiming Spesard's actions of operating his private business from the county facility helps the taxpayers of Shelby County, all while ignoring the fact use of public resources for private gain is a crime in Illinois. We first exposed that issue in this article.
An email we obtained this week shows that the County Chairman Bruce Cannon supports Spesard.  This is yet another example of how Chairman Cannon has failed to protect the taxpayers of Shelby County.  (Email here).
For those that believe nothing is wrong with what has been going on for over 20 years, ask yourself why Spesard canceled a county paid for cell phone that was being used for Shelby Engineering?  If there was nothing wrong, why cancel the phone?  Why change the email used to do business with the city?  If there was nothing wrong, why change it?  Both of those steps were taken before we exposed what was going on.  It appears he knew he was doing things he should not be doing and took steps to avoid further exposure.  Compounding those actions is the fact he omitted his business ties on his State-mandated Statement of Economic Interests.  If all this was OK why not disclose his private Engineering company on those statements (article here)?
For those who have concerns over the way this matter is being handled by the county and the city, we encourage you to contact County Board members, Shelbyville Mayor, and Shelbyville Alderman to express your concerns as nothing is ever going to get fixed if people continue to ignore such activities.
While a handful of county officials have requested a criminal investigation, we do not believe it will ever happen with the current people in charge at Shelby County.  We encourage people to contact the State's Attorney to express their concerns on this matter and demand an outside prosecutor look into these matters.