Dupage Co  (ECWd) –
Bloomingdale Township Road District Highway Commissioner ROBERT CZERNEK was indicted by a Federal Grand Jury.  The indictment alleges the defendants, knowingly devised, intended to devise, and participated in a scheme to defraud Bloomingdale Township of money and property, by means of materially false and fraudulent pretenses, representations, and promises, and by the concealment of material facts, and of the intangible right to the honest services of defendant ROBERT CZERNEK through kickbacks.
Once again we see the Federal authorities focusing on the Statement of Economic Interest documents required to be filed by public officials.  In this case, Czerniak omitted required information according to the indictment.
13. It was further part of the scheme that CZERNEK falsely omitted the income that he received from BEM on the Statement of Economic Interests which he filed between in or around 2012 and in or around 2020 in order to conceal and disguise the existence, source, and purpose of the kickbacks which he received from BEM.
Within the indictment are assets they are seeking recovery of, which paragraph f and g are of particular interest to us.
f. a 1966 Buick Wildcat, bearing vehicle identification number 466376X155561, held in the name of ROBERT CZERNEK, seized on or about January 21, 2020;
g. a 1981 Corvette, bearing vehicle identification number 1G1AY8764BS427848, held in the name of ROBERT CZERNEK;
While the indictment reflects they have seized the Buick, it says nothing about the Corvette being seized.  Below are photos of the two vehicles which we obtained in late 2018 as part of our investigation into this particular Highway Commissioner. Any guess where the photo was taken?  From within the Township Road District shop.
According to our confidential source, the vehicles were stored illegally on Township property for years and driven in parades.
Of interest is the fact these two vehicles have the same license plate on them in the photos.  According to our source, the vehicles were stored in the township building and were driven in parades. It was alleged that the Highway Commissioner would swap plates depending on which vehicle he would drive.
Both vehicles were removed shortly after we began exposing other Township self-dealing in the Northwest Suburbs of Chicago, particularly Algonquin and Oakland  Township's.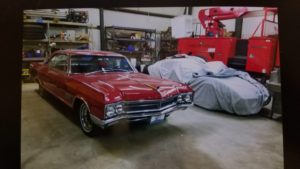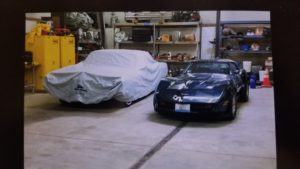 A copy of the Indictment can be downloaded at this link or viewed below.  We encourage everyone to read the entire indictment to grasp the magnitude of the alleged crimes taking place in just this one Township Road District. Rest assured, this type of thing goes on across this entire state and we simply can not keep up with all the tips on these types of alleged crimes.
Twenty Count Indictment