Clay Co., IL. (ECWd) –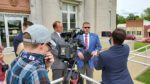 Rep Darren Balley's lawsuit attacking Gov Pritzker's executive orders was heard in Clay County this afternoon.
Bailey's Motion to file amended complaint was granted.
Pritzker's Motion to move the case to Sangamon County was denied.
Bailey will file Motion for Summary Judgment on Monday.
Pritzker to file answer by Thursday.
Summary Judgment Motion will be heard next Friday, May 22, 2020, in Clay County Circuit Court at 1 p.m.
.
Our work is funded entirely thru donations and we
ask that you consider donating at the below link.