Urbana, IL. (ECWd) –
UPDATE #2: the Urbana School District has confirmed that Shamar Betts does not and did not work for them and is/was not a school district employee. The "afterschool program" at the Urbana Middle School was in cooperation with the Urbana Park District. Betts was employed at the Park District at that time. Janet, an employee of the Park District claims he no longer works there, but we have been unable to receive responses to my questions of when he was terminated, or if he doesn't work there simply because of the COVID closures. His name is listed on the Park District's preschool program parent handbook, published in October of 2019.
UPDATE: Shamar Betts, the vegetarian preschool camp leader for the Urbana Park District posted a video he is sure to be proud of – in the post he appeared to be bragging about looting a business also:
Shamar Betts – an employee of the Urbana Park District (according to his Facebook page and Park District letters) has made several posts on Facebook which appear to be his attempt at inciting a riot and looting in the Urbana-Champaign areas.
Betts is employed within the Preschool Public Program Leader & Nature Play Facilitator. His bio (On page 10 of the Forest Preschool Handbook below) states:
"My name is Shama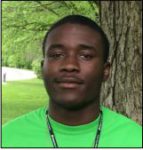 r, and I'm proud to be a part of this program, enthralling young minds!
This past summer I worked as an Extended Camp Leader and Preschool Camp Leader at
Nature Day Camp. I also helped lead Animal Adventure Camp and Preschool Science Camp. I
currently work at the afterschool program at Urbana Middle School, teaching kids how to
play chess. No matter where I've lived, I have always interacted with nature. I have been a
vegetarian for the past four years because I don't believe in harming any living being. I
guarantee that your child will be in good hands with me!"
On a Facebook post from this morning, Betts posted a deranged rambling, and a photo asking people to "RIOT @MarketPlace Mall at 3" He also posted a photo with a burning car and asked people to "bring friends, family, posters, bricks, bookbags, etc." and that "After the mall we hitting the whole PROSPECT & NEIL."
Is this a person any public entity should trust with children?
You can download the pre-school handbook at this link or view it below.
October_2019_Forest_Preschool_Parent_Handbook

.
Our work is funded entirely thru donations and we
ask that you consider donating at the below link.