Clay County, IL. (ECWd) –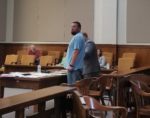 Iraq War Veteran and business owner, James Mainer prevailed in Court today when Clay County Circuit Court Judge McHaney issued a Temporary Restraining Order against Governor Pritzker and any other state actor in Illinois from enforcing, or attempting to enforce, the governor's Executive Orders on stay-at-home, and business closures.
This ONLY applies to Mr. Mainer and his tanning business and is effective immediately.
Video of interviews with Attorney DeVore, and a copy of the TRO are below:
The TRO had 3 Counts, first count denied, 2nd and 3d counts granted.
The Assistant Attorney General asked for a Stay of the TRO, pending an appeal, but that request was denied.
TEMPORARY RESTRAINING ORDER-5_22_2020

.
.Our work is funded entirely thru donations and we
ask that you consider donating at the below link.