Illinois (ECWd) –
Ventilators in use by COVID-19 Patients in Illinois as of April 3, 2020 totals 666.
With 935 COVID-19 patients in ICU according to April 3, 2020, update, 71.23% are on ventilators.
That 666 ventilator figure reflects 26.19% of the total ventilators available, according to the information released on April 3, 2020.  Since this is the first time the state has reported figures on ventilator use we have nothing to compare it to in order to know if progress is being made with measures being implemented.   With ventilators being the primary concern nationwide, we will have to watch this number closely going forward to better understand the impact this virus is having in Illinois in relation to the protective measures put in place.
Conflicting numbers from the state:
What attributed to the increase of almost 2,000 (1,966) Hospital beds in Illinois in 10 days?
What attributed to the increase of 89 ICU beds in 10 days?  How many of those beds on March 24, 2020, were COVID-19 patients?
What do the numbers tell us?
According to the Illinois Department of Public Health, as of April 3rd, 2020, Illinois has 8,904 confirmed positive cases of COVID-19 with 2,984 (33.351302785265049%) being hospitalized, of which 935 (10.50089847259659%  ) is in ICU, and 210 deaths (2.35849056603774%)
Are other parts of the country seeing 33.51% of positive cases needing to be hospitalized, 10% being placed in ICU, and a death rate of 2.35% dying from this virus?
According to reports out of New York City Health Department, as of April 2, 2020, they had 49,707 cases of COVID-19 with 9,680 (19.47411833343392%), hospitalized, of which 2,240 (4.50640754823264%), were in ICU and 1,562 deaths (3.14241454925866%).
Why the dramatic differences in the numbers between Illinois and New York City?
Illinois Hospitalization for positive cases – 33.35%
New York City Hospitalization for positive cases – 19.47%
Illinois ICU hospitalization for positive cases – 10.05%
New York City ICU Hospitalizations for positive case – 4.51%
Illinois Death rate from COVID-19 cases – 2.35%
New York City death rate from COVID-19 cases – 3.14%
It would appear from the numbers, understanding this is a very basic snapshot comparison of data provided, Illinois medical providers are hospitalizing a higher percentage of positive cases, which appears to point to a higher survivability rate than those of New York City.
In order to see what type of progress is being made from both the medical procedures and the social distancing recommendations, these same figures will have to be reviewed each day to identify if real progress is being made.
Looking at the graph at the bottom of the IDPH web site, select ALL and you will get an idea of what ongoing testing is showing in Illinois.  Using the above percentage figures above it should give people an idea of where we stand in Illinois as it relates to this virus.
Statewide Hospitalization info from Illinois: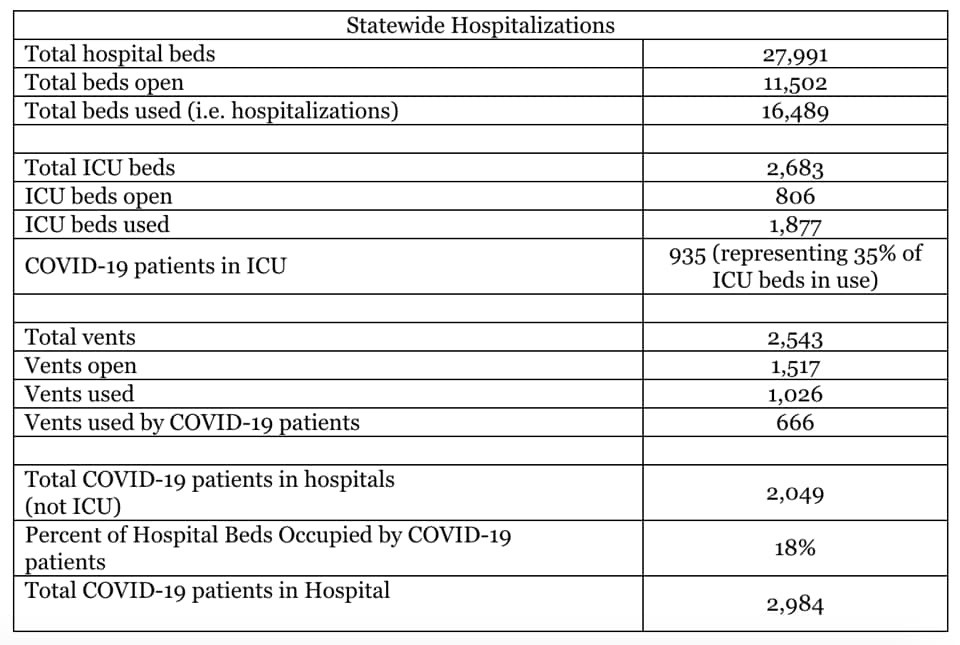 .
Our work is funded entirely thru donations and we
ask that you consider donating at the below link.