Illinois – (ECWd) –
UPDATE: We have recieved two messages claiming the press conferance video used by WGN in the April 16, 2020 news brief, which we linked to in the article below,  was over a month old and actually from a March 13, 2020 press conferance.  After review of the governments video of the March 13, 2020, press conference, it does appear all the people standing behind the governor are the same as the WGN video that is taken from a different angle and shows people in the room.  Considering the Governor had not issued the social distancing order until March 16th, 2020 and the gathering order limiting those gatherings to 10 people on March 20, 2020, the Governor did not violate his own order.   I repeat, the Governor DID NOT violate his own order.  
We take full responsibility for not validating WGN's video production date and we thank our diligent readers for bringing this to our attention.  We, in error, took for granted WGN's video was current and never imagined it would be video from over thirty days prior.  
We also apologize to Governor Pritzker for our error.
We chose to run this update in the article we first published in order to minimize further misrepresentations of the matter.
During WGN's reporting on Pritzker's China deal gone bad, a very interesting fact appears to  come to light in relation to his Executive Order regarding the number of people gathering and social distancing.
To the extent individuals are using shared or outdoor spaces when outside their residence,

they must at all times and as much as reasonably possible maintain social distancing of at least six feet from any other person

, consistent with the Social Distancing Requirements set forth in this Executive Order.

any gathering of more than ten people is prohibited

unless exempted by this Executive Order.
All public and private gatherings of any number of people occurring outside a single household or living unit are prohibited, except for the limited purposes permitted by this Executive Order. Pursuant to current guidance from the CDC,

any gathering of more than ten people is prohibited

unless exempted by this Executive Order
We found no exemptions for the Governor to hold press conferences with more than ten people in the room nor an exemption for the six-foot social distancing order.  While we understand many of the people are media and exempt from the EO, the Governor is not exempt from his own order and all indications point to him failing to enforce social distancing and his ten-person gathering rule.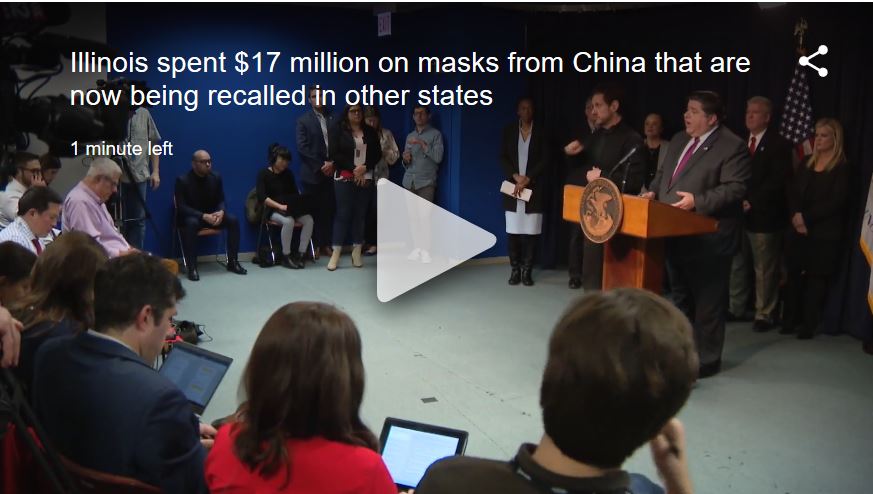 Clearly, from the video of WGN's reporting and the screen capture from that video, it appears social distancing is not being maintained and it appears there are more than ten people in that room. We count 24 people, assuming the hand on the lower left is attached to an actual person.
While public bodies across the state are denying people access to meetings because of the 10 person rule, one can only wonder why its OK for the Governor to violate the very rules being imposed on everyone else in this state.
.
Our work is funded entirely thru donations and we ask that you consider donating at the below link.