PARIS, IL. (ECWd) –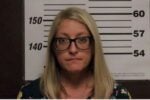 Courtni Hays appeared in Edgar County Circuit Court today and entered into a negotiated plea on the charges of theft from the Edgar County Health Department where she was previously employed.
According to the court docket:
The case will be suspended after 24 months under the First Offender Initiative Program is completed
Hays cannot violate any criminal laws
Hays cannot possess any firearms during the program
Hays ordered to pay restitution (which has already been paid)
Must pay assessment of $549
$500 fine
.
Our work is funded entirely thru donations and we
ask that you consider donating at the below link.