HUME, IL. (ECWd) –
Troy Eads, "Police Chief" of Hume, Illinois (pop. 380), Chairman of the Edgar County Emergency Telephone System Board, and former part-time deputy sheriff, is apparently displeased that we published a photo of him and his son (who is a Village Trustee in Hume) with what appeared to be a can of Bud Light and full shot glass in their hands outside and in the street in front of the Hume Community Building.
Eads sent me a threatening text stating that "You're damned lucking I'm out of town right now" and also filled with other vulgar and insulting words.
One would think the Edgar County Board would not appreciate someone they appointed to the ETS Board acting in this unprofessional manner.
We doubt the Village President of Hume cares what his brother, the Police Chief says, but nevertheless, it makes the Village look bad when their Police Chief uses this type of language and poses for a photo with a minor apparently in possession of alcohol. Eads' day job is working fulltime at FedEx in Indianapolis.
Oh, and he threatened to sue me for slander and libel. We are anxiously awaiting his "lawsuit."
Read the offending text message (here).
Our work is funded entirely thru donations and we
ask that you consider donating at the below link.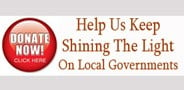 </