EDGAR CO., IL. (ECWd) –
The Edgar County Sheriff's Department has stated that 72 people were taken from an underage drinking party to the Edgar County Jail.
This statement was released online this morning:
"5/24/19 at approx 2345. Edgar County Sheriff Dept. received a report of cars blocking the roadway south of Vermilion.
Upon arrival Deputies found a large underage drinking party.
Approx. 72 people were transported to the jail by bus.
The ECSSA Ambulance was called for three people with alcohol-related emergencies.
RIDES Mass Transit assisted with a bus and the Vermilion Fire Dept assisted with medical care.
Paris Police Dept. assisted at the jail with processing and breath tests.
More details will be released in a press release on Monday.
We take underage drinking seriously and it will not be tolerated."
This is the part that we are glad they included: "We take underage drinking seriously and it will not be tolerated."
Now we have a challenge for them to enforce their statement against others.
Several days ago, we were notified a part-time deputy with the Edgar County Sheriff's Office, who incidentally is also the "Chief" of Police in Hume, Illinois, as well as the Chairman of the County 911 Board, was permitting underage possession of alcohol by a minor, who just happens to be related to him and was most recently elected as Village Trustee in Hume.
We understand the part-time deputy resigned from the Sheriff's Department for reasons not related to this situation, but because the position of deputy sheriff and ETSB board member are incompatible with each other in Edgar County.
Another family member is the Village Mayor and also part-time Edgar County Deputy.
Below is a photograph provided with the tip (click here), which appears to indicate that the underage person was holding a can of Bud Light, and others, including his father, were also holding cans of Bud Light (anyone familiar with drinking would most likely come to the conclusion that the little red "shot glasses" didn't contain a non-alcoholic drink).
This photo was taken when they were on the sidewalk and street outside the village community building.
The photo briefly appeared on a relative's Facebook page.
We urge the Edgar County Sheriff to investigate this tip and determine which laws, if any, were violated.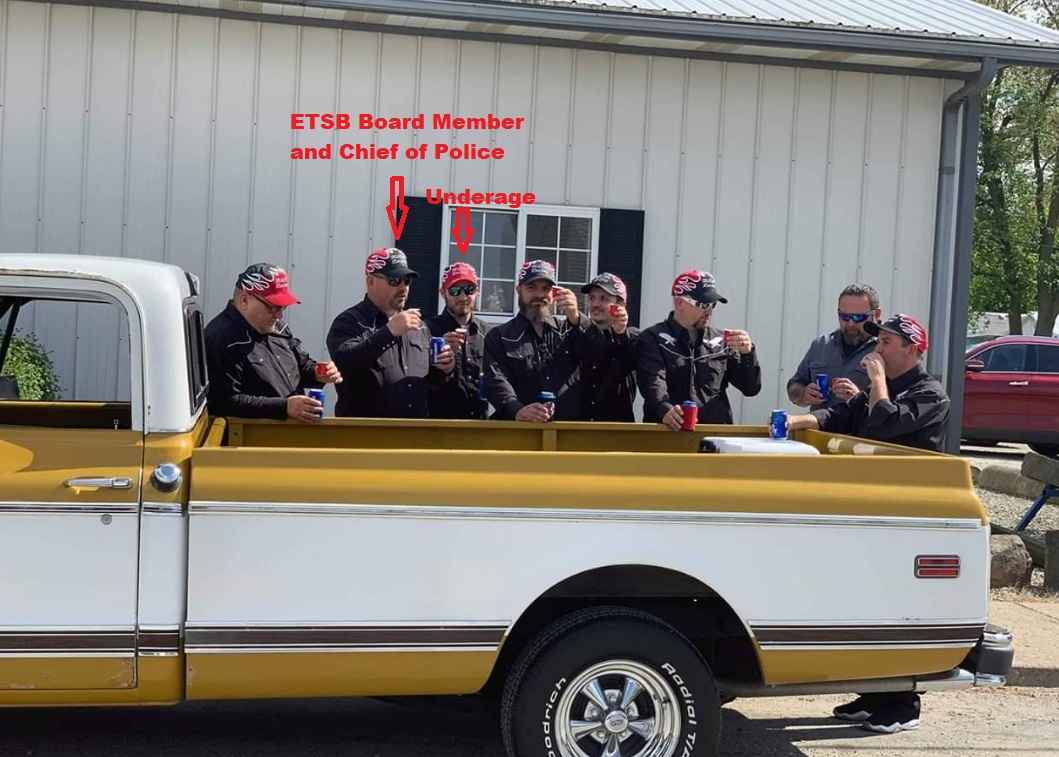 .
Our work is funded entirely thru donations and we
ask that you consider donating at the below link.