Madison Co., IL. (ECWd) –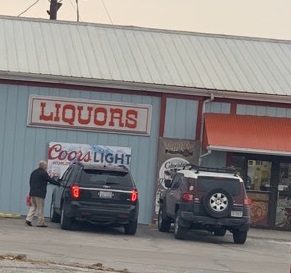 Otis Steward, Special Investigator for the Madison County State's Attorney, was spotted entering the driver's side of a Madison County vehicle with what the source of the photo said was a case of Budweiser that he had just purchased after parking the vehicle outside of a liquor store. This photo was taken at 4:37 p.m. on Wednesday, February 20, 2019.
According to Madison County Policy, Section C. Violations, subparagraph 2(c)and (d), Steward violated county policy in two ways, first by parking at a liquor store, and second by transporting alcoholic beverages in a county vehicle.
Madison County Policy:
C(2)(c):  No alcoholic beverages (whether opened or unopened) . . . may be transported in county-owned vehicles.

C(2)(d):  County vehicles shall not be parked in front of or in a parking lot associated with taverns or liquor stores unless employees are on official business . . .
We ask the Madison County State's Attorney to make sure his employees know that people are looking at them as an example, and the example being set it not very good.
Otis Steward retired as Police Chief from Wood River in February of 2018.
.