Will Co. (ECWd) – 
DuPage Township Supervisor Bill Mayer was confronted a few months ago about his affiliation with a company called Call One, which happened to be providing phone services to the Township.  Mayer denied any affiliation and assured the members of the public and my self he would provide an affidavit to support his claim of no affiliation. 
The reason this is important to pin down is because our laws restrict an elected official from having an interest directly or indirectly in an entity providing services to the Township.  It is known as the Officers Prohibited Activities Act. 
As we waited for the affidavit that has yet to be provided as promised by Mayer, we continued to do our homework.  During one of my initial public comments, I called for Mayer's resignation based on clear evidence of wrongdoing.  
Mayer has yet to resign or provide any affidavit however after last nights meeting and today's findings, we once again urge him to resign as this is only going to get more embarrassing for him.   
While Mayer tells the public he did not have any affiliation with Call One, he tells his ex-wife in an email something different. 
"Effective July 2, I will no longer be employed by Call One I will only be a 1099 contractor"
Interesting! 
How is it that he tells us and the public he has no affiliation with Call One yet tells his ex-wife that he will no longer be an employee but instead a 1099 contractor, which clearly is still an affiliation with the company that is doing business with the Township?  
And rest assured, we have more evidence to share that proves his claim of no affiliation with Call One is not true and some of those records has his own signature on them. 
Sunlight, the true disinfectant! 
email-to-ex-wife-about-call-one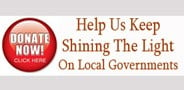 .