Will Co. (ECWd) –
DuPage Township Supervisor Bill Mayer appears to have admitted to a conflict of interest, that if true, could be a class 4 felony under the Township code at a minimum.
The Township code, specifically section 85-45 outlines pecuniary interest in contracts and states in part: "Sec.85-45. Pecuniary interest in contracts.
(a)Except as provided in this Section, no township officer or employee shall be interested, directly or indirectly, in his or her own name or in the name of any other person, association, trust, or corporation, in any contract for work, materials, profits of work or materials, or services to be furnished or performed for the township or for any person operating a public utility wholly or partly within the territorial limits of the township."
Of interest in this case is Wrangler Unlimited is a dissolved corporation according to the Illinois Secretary of State filing. The company names Supervisor Bill Mayer's wife as the President and Agent and reflects the company was involuntarily dissolved in December of 2016.
Supervisor Mayer disclosed on his Statement of Economic Interest that he is a Partner in a company named Wrangler and that it has done business with DuPage Township and that his interest held is in excess of $5,000.00 or received dividends in excess of $1,200.00 during the preceding calendar year.
During a previous meeting, Mayer said he would provide an affidavit that he is not affiliated with nor worked for Call One, a company that is contracted with the Township. To date he has refused to provide the affidavit however court records reflect that at least in 2012, he was a "sales representative at Call One, Inc." and "earned in excess of $160,000(net) in 2012"
After a recent Township meeting, his wife, we believe slipped in her attempts to protect her husband and confirmed he does not work for Call one but rather Wrangler, a company she owns, which Mayer is reporting an interest in and claims they do business with the Township.
If these admissions by Mayer are true then it appears he has violated the Township code outlined above.   According to that statute, "(e) Any officer who violates this Section is guilty of a Class 4 felony"
If Call One is paying Wrangler a commission or fee for their business with DuPage Township then Supervisor Mayer, by his own Statement of Economic Interest, may be on the wrong side of Section 3 of the Officers Prohibited Activities Act as well.
SEI-Online

.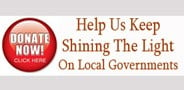 .