SPRINGFIELD, IL. (ECWd) –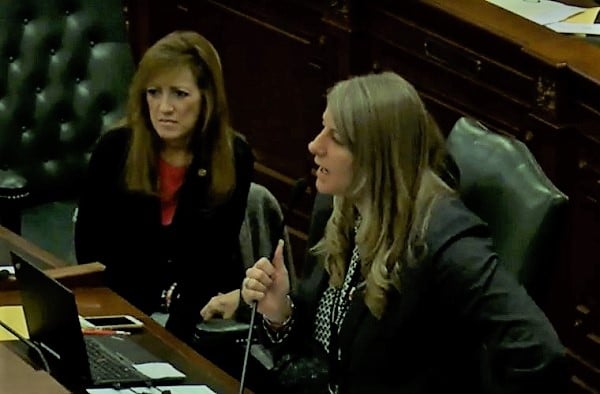 On the Illinois House of Representative Floor, during debate on November 27, 2018, Rep. Stephanie Kifowit, D-Aurora, issued a death wish upon Rep. Peter Breen and his family.
She was applauded by fellow representative Jonathan Carroll, D-Buffalo Grove, who complimented her on her eloquent comments.
Kifowit later lied, on the house floor, about what she said, and refused to apologize for what she said, but rather issued a faux apology for how people "misunderstood" what she said.
There is no misunderstanding this clear death wish (in our opinion).
Illinois State Representative Stephanie Kifowit, D-Aurora:
"To [Representative Peter Breen] I would like to make him a broth of legionella and pump it into the water system of his loved one, so that they can be infected, they can be mistreated, they can sit and suffer by getting aspirin instead of being properly treated, and ultimately die."
Later in the day, after receiving a demand for an apology, she lied to other members of the General Assembly by trying to convince them she did not say what she actually said.
Kifowit refused to apologize for her death wish, but instead apologized for how people misinterpreted what she said.
Montage of her comments and lies below:
.