SPRINGFIELD, IL. (ECWd) –
After reviewing the purchase agreements for electronic signage bearing School Board Member Adam Lopez' name and business entity, and all available Springfield School District 186 purchase/procurement policies, everything points to the school district's former athletic director and assistant principal, Brian Caton, approving the design and purchase without any board action or approval for the project.
Additionally, after reviewing the meeting minutes and finding no approval of this purchase, we also found no discussion between the Board and its attorney, who according to Board Policy #246 is required to "call the Board's attention to any action or proposed action, which is contrary to Federal or State laws, or policies of the District or the State Board, or to contracts between the District and any person, association, corporation or governmental entity." Since no meeting minutes (that we can find) mention this purchase, it should give the indication that this contract for purchase, and contract for maintenance of the electronic signage was never presented to the board for approval.
Policy 415.073R requires Director of Operations and Maintenance  approval
Policy 415.071R requires Director of Purchasing/Operations approval this one even includes a flow-chart. Athletic Director is not included in the flow-chart
Policy 415.07R required Director of Business Services under the direction of Superintendent. Anything over $10,000 is required to be supported by sealed bids. The Board established additional requirements under this Policy.
Policy 410 required the District Board and Administration to strictly observe the letter and spirit of all laws and regulations related to purchases, such purchases and use of materials and manpower shall be accomplished competitively. The Business Manager has the primary responsibility for these rules and procedures.
We reached out to the District 186 Superintendent, Jennifer Gill, via telephone and email. She has not yet responded to our inquiry.
Finally, we suggest, using current case law in Illinois, that since the purchase(s) did not follow state law or local school district policy, the purchase is void and the school district can obtain a refund for the entire electronic signage purchase. It is the duty of people doing business with government entities to know and comply with all applicable rules and laws.
.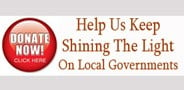 </a