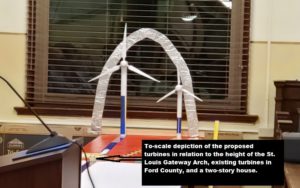 PAXTON, IL. (ECWd) –
Video of the Ford County Zoning Board of Appeals Hearing held on October 3, 2018. It is approximately 4 hours in length and the board recessed until October 25th at 7:00 p.m. to continue the Hearing. View the above photo full size (here).
Some things noteworthy:
a resident complained about all "the outsiders" assisting those wanting setbacks from the property lines and larger overall setbacks. Immediately following his comment were 8 "outsiders" providing testimony in favor of the wind turbine industry's relaxed rules. It might be assumed these people were paid for their testimony as they mostly work for the wind industry.
some testimony from wind industry proponents dealt with financial aspects of the ZBA hearing results, which should never be considered in determining zoning changes.
The video is in three parts:
.