BOLINGBROOK, IL. (ECWd) –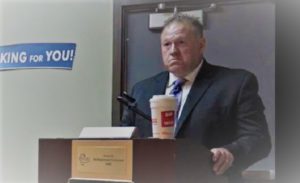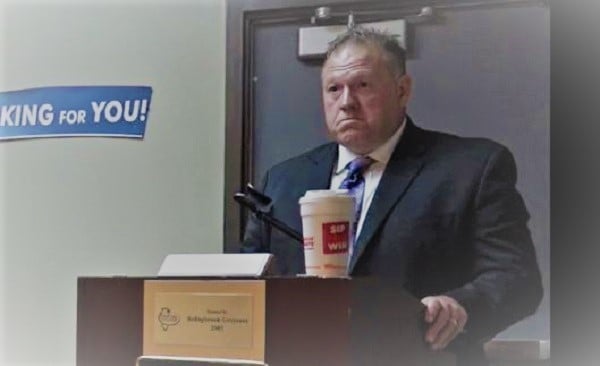 There were so many inaccurate statements, grandstanding, and flat-out lies during the October 9, 2018, DuPage Township Board of Trustees meeting it is difficult to concentrate on any one aspect.
Timeline as the statements occurred can found in the below video.
This meeting starts with 24 excruciating minutes of the Supervisor attempting to examine the former attorney, but he goes completely off the rail with questions from up to 6 years ago, and made other false statements in relation to his invoice. 
00:01:08 – Supervisor attempts to prove something with his questioning of the former Township attorney. He first wanted to know about a Sexual Harassment policy the attorney never drafted (and was not on the invoice in question).
00:06:21 – Now he asks about something from February of 2017 (again, not on the invoice in question). You can clearly see in this section that Mayer is trying to get the attorney to say something that never occurred, in an attempt at covering for something Mayer himself has already been caught doing.
00:08:10 – Mayer asks about a change in compensation of township officers that occurred in 2012 (again, not on the invoice in question). Then accused the attorney of being "very hostile" with the questioning.
00:09:40 – Mayer claims he never received a response from the former attorney, when the truth is he did receive a response – he even read the email in response to his email to the attorney.
00:10:40 – Mayer is complaining about the attorney billing for time spent talking to or responding to township trustees. He starts lying about Trustee Benford's communications with the attorney, by saying Benford emailed every day or "almost" every single day.
00:16:15 – Mayer, once again, tries disparaging Benford for questions sent to the attorney, that the attorney billed for answering.
00:20:15 – Mayer reviews the current billing invoice, with hours and costs, and asks for Motion to approve paying the invoice. Motion and second to not approve.
00:21:21 – Trustee Benford corrected Supervisor Mayer's false statements about Benford's "almost every day" communications with the attorney. Mayer tries cutting her off, and later complains because she made a statement instead of asking a question.
00:23:35 – Motion to not pay the bill failed. New Motion and second made to pay the bill, affirmed by majority of the board – bill paid.
00:29:44 – Mayer made inaccurate statements about the alleged forensic audit.
00:32:35 – This is where they start moving funds to cover for Supervisor Mayer's misuse of General Assistance funds.
00:45:45 – Supervisor Mayer jumps up on his sixteen-minute soapbox here. Spends several minutes patting himself on the back, and clearly indicating he holds as a premium every unanimous vote of a public board. If the votes are not unanimous, he apparently has problems with the vote. If he wants unanimous votes every time, he should maybe move to North Korea or other similar country where all votes are mandated to be unanimous. He covers from 2011 thru 2017 and is proud that no trustee voted "no" on any Motion the entire six-year period. He is proud of that, but we see a dysfunctional public board because they apparently either have no independent voice, or everything is secretly "worked out" in private; without public knowledge of deliberations.
00:51:35 – Mayer talks about the Bolingbrook Lions Club annual event. He said he made the bar bigger as soon as he became Supervisor because of the long lines at the St. Patricks' Day Event. He is a Lions Club member. So was his decision to extend the bar, allegedly using public funds, because it would benefit the organization he is a member of? Would he have done that for an organization he was not a member of?
00:52:37 – Starts talking about election things and complained about a comment made to him about someone asking about him running for Mayor of Bolingbrook, and a comment made to him about someone "not wanting his reputation being ruined."
00:54:50 – Mayer talks about the money given to the Lions Club for the dinner, but fails to answer who actually received the approximately 50 tickets purchased by the township. I ask again, were the tickets purchased because Mayer is a member of that Lions Club?
00:56:50 – Mayer was not honest about what he said Trustee Benford said during a past meeting. Then continues on to make comments about how he is not racist. He starts electioneering now, by calling Benford, a current Candidate for State Representative, a "failed candidate." She is obviously not a failed candidate – the election is not over…
01:00:53 – After sixteen minutes of bullying, intimidation, and political grandstanding, Supervisor Mayer promised to do his best "to eliminate the culture of intimidation in Bolingbrook politics." That didn't last very long, because later in the meeting he proceeded to bully and attempt to intimidate two people wanting to talk during public comment.
01:13:25 – Watchdog Kirk Allen speaks during "Comments from the Press."
01:15:40 – Members of the Public provide public comment.
01:23:25 – This is where Supervisor Mayer embarrasses himself again by bullying and attempting to intimidate both Kirk Allen and John Kraft in an attempt at keeping them from talking. He rudely and continuously talked over, interrupted, and talked over again both Kraft and Allen, until the current township attorney informed him of the right to provide public comment during a meeting. Apparently he thinks a member of the press cannot be a member of the public.
01:27:10 – Trustee Oliver claims if anything was illegal the police would have already showed up. She is wrong and should probably learn how to read and interpret the Township Code. Meanwhile she apparently refuses to report the illegal acts to those police in order for them to act.
01:28:40 – Trustee Burgess lies (either at this meeting or in response to the FOIA request for the pictures he says he has) and says he has a picture of me with a candidate while receiving a donation check. He is wrong. He has no such picture because no such picture exists.
01:29:23 – Member of the Public, Kirk Allen, talks during public comment, is interrupted by Supervisor Mayer. Later the attorney acknowledges his right to speak and Kirk continues his public comment after informing Supervisor Mayor that violations of the Open Meetings Act are criminal offenses.
It appears, the Township is using the Levy Center for profit, which is something we cannot find permission granted for in the Township Code. Governments are not supposed to be operating for profit. If they are, they are charging too much.
.