BOLINGBROOK, IL. (ECWd) –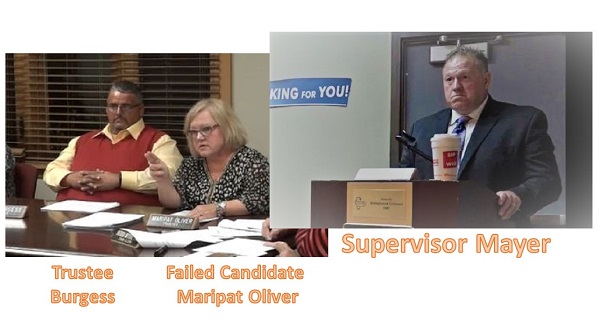 By now, it is well-known that there was a settlement in an Open Meetings Act case disputing the firing of DuPage Township employee Linda Youngs. The plaintiff's attorney for that case was Bolingbrook Attorney Joe Giamanco.
The Open Meetings Act lawsuit named Trustee Maripat Oliver as defendant, along with two other trustees, Raga and Benford, who also voted in favor of the firing. The agenda for that meeting did not list any item for terminating an employee, and since it was not on the agenda it could never have been voted on.
It is also well-know that Trustees Burgess and Oliver wildly exaggerated, at the September 25th township meeting, about fellow trustee Benford when discussing an incident involving people walking in a local parade, and lied about a local non-profit who's mission it is to help those young people to become positive contributors to society.
After the faked outrage about the parade, and promises of cutting funding, sources have informed us that both Trustee Oliver and Supervisor Mayer attempted to "force" the Executive Director of the HEART Program into signing an affidavit that was patently false. This, in my opinion, was another attempt at discrediting a political candidate using the threat of reduced funding, while also using their elected positions as township officials as cover.
"Incidentally" the document properties of the false affidavit show Bolingbrook attorney Joe Giamanco was the originating document author of the affidavit. Giamanco is also a frequent contributor to "Bolingbrook United" and the "DuPage Township Democratic Organization" (read the report).
The affidavit was authored three days after the public meeting in which the issue was discussed by disgruntled Trustee Ken Burgess and failed 2010 Candidate for State Representative (and current Trustee) Maripat Oliver.
Our repeated attempts to obtain a straight answer from Giamanco failed, he never denied his alleged involvement in authoring the affidavit, and never denied providing it to a DuPage Township official with the hopes of obtaining a signature.
As it currently stands, we will let the document properties speak for themselves, it clearly names Joe Giamanco as the document author: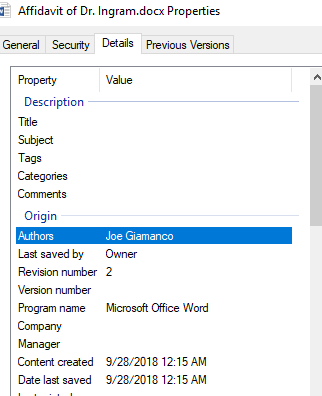 .