ALORTON, IL. (ECWd) –
Update: Today's (9-28-2018) mugshot added:
Jo Ann Reed, the Mayor of Alorton, Illinois, and once-convicted felon, has been arrested again today on a Bench Warrant for charges of two Class 3 Felonies of Official Misconduct (One for Forbidden Act and one for Obtaining Personal Advantage) and a Class A Misdemeanor for possession of oscillating lights/police equipment.
These arrests come from an event occurring on September 15, 2018 when she was spotted allegedly "impersonating a Police Officer" by allegedly using her city vehicle, equipped with police lights, in order to "clear the path" for her personal travel. She is not a police officer. We wrote about it and included radio dispatch from the Illinois State Police (here).
She is still awaiting trial for previous arrests of Official Misconduct (retaliation by terminating whistle blower employee), Vote Buying, and Disregard of Election Code.
We will update this information as more becomes available.
.
.

.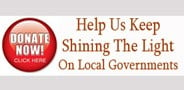 <