McHenry Co. (ECWd) –
John Styf, Editor of the Northwest Harold took to the Cary Grove Politics Facebook page in what appears to be an attempt to school the Algonquin Township Road Commissioner on journalism and fake news after he posted a statement pertaining to an article the paper ran found here.
Andrew Gasser, Algonquin Township Road Commissioner posted the comment below along with a logo he has created mocking the Northwest Harald as Fake news.
"Never once in my prepared remarks did I refer to the Algonquin Township Highway Department as "my office". I did say "my speech" and "Highway Commissioner" but never once did it call it "my office".
It is not my office but the peoples. I am simply blessed to occupy it for a while.
Go listen to what I said. This the problem with the greedy McHenry County political class. They think they own everything once elected. More #FakeNews from Ed, Hannah, and the northworst herald. Simple little things like this ruin journalism.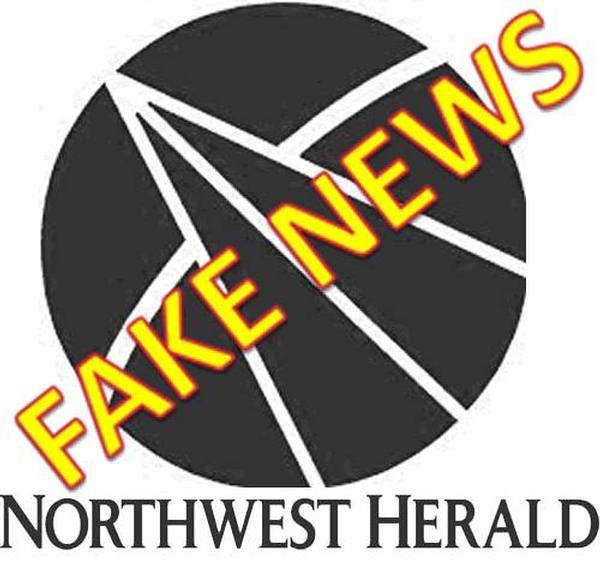 The Editor Responded to Gasser's post:
Jon Styf  –Andrew Gasser You seem to be misunderstanding a direct quote and a paraphrase. Direct quotes have quotes around them, paraphrases do not. This headline paraphrases what you said about the office you hold. You spoke on that office, which is highway commissioner. The direct quote, here, is this: "I ask that you approve the proposed resolution to abolish the Algonquin Township Highway Commissioner and bring it under the auspices of the township supervisor and the board," Gasser said. "There's no need for mudslinging, placing blame or political paybacks; this is all about good, honest, open and transparent government." If you have any other journalism-related questions, feel free to ask. My number is 815-526-4630. We're happy to help you be informed on that. You also seem to be misinformed on "fake news" after someone attempted to co-opt the term. It refers to lies and complete fictitious stories meant to get a reaction or misinform, particularly on Facebook, where people shared completely false stories heading into the past general election. This is not that at all. This is coverage of a local meeting with accurate direct quotes. You might not always like what it says, but that does not make it "fake news."
Has Mr. Styf provided the needed information to point to Fake News by his reporter Ed Komenda?
Fake News – "It refers to lies and complete fictitious stories meant to get a reaction or misinform"
Using his definition of Fake News we must ask, does Komenda's story found at this link meet his definition of fake news or has he provided himself selective cover by keywords such as "and", and "complete"?
As he defined it, fake news must be both a lie and complete fictitious stories meant to get a reaction or misinform.  So in short, a story with a lie is not fake news because his definition combines lies with the word "and" as a second qualifier, which points to complete fictitious stories meant to get a reaction or misinform.  So using his definition, even a story published that has lies and fictitious information, as long as the "complete" story is not fictitious, it's not fake news.  LOL
Lie?  – "Between Feb. 28, 2017, and May 15, 2017, a group of Algonquin Township Highway Department employees spotted a red Rabine Group vehicle driving roads, stopping and surveying at certain intersections."  
Our article on this subject proved the information quoted by his reporter could not be true based on the documents, which we published.  The timeline was a fabricated timeline and considering the narrative of the entire story was predicated on a false timeline, would that mean the story was fictitious?
Misinform? –The article the NWH published regarding the reason for the Road District unionizing was filled with misinformation.  As we said in our article on the subject, they should print a retraction and apology for such a blatant disregard for the facts.
PolitiFact: "Fake news is made-up stuff, masterfully manipulated to look like credible journalistic reports that are easily spread online to large audiences willing to believe the fictions and spread the word."
Merriam Webster– Fake news is, quite simply, news ("material reported in a newspaper or news periodical or on a newscast") that is fake ("false, counterfeit").
Many papers walk a fine line by printing enough truth as to avoid being called fake news, yet still fill them with enough lies or unverified quotes and misinformation they end up destroying their credibility and misinforming the public. Such appears to be the case with the Komenda story referenced in this article.
How about this article by the same reporter on the subject of township road district abolishment?
Headline – "Algonquin Township trustees to consider pushing road district consolidation referendum"
Nope!  Fake News. 
There was no consolidation issue being pushed at all.  What was being pushed was the abolishment of the Road District.  All this reporter had to do was read the statutes to understand this had nothing to do with consolidation.  The title was not true and mislead the public in our opinion.
"Algonquin Township officials will vote Wednesday night on a question that has drummed up controversy in McHenry County: Should voters have the chance to consolidate the highway department?"
Nope!  Fake News!
There was nothing on the agenda about consolidation.  I wonder if the reporter could tell us who the highway department was consolidating with?
"The move also follows letters and phone calls from McHenry County Board Chairman Jack Franks pressuring the township to put a referendum on the November election ballot allowing residents to eliminate the road district with a majority vote."
There it is!  An element of truth.  In that paragraph it points to eliminating the road district, which is in fact abolishment, not consolidation.  That being the case, how did he get it so wrong with all the other claims of it being a consolidation effort?  Was that by design?  Was it to misinform?
"In effect Jan. 1, the law allows township trustees to ask voters whether they want the road district abolished and its responsibilities given to the township."
Once again, he points to abolishment yet the title of the article misleads the public as he knows it is not about consolidation with two paragraphs both pointing to abolishment.
"The responsibilities of the highway commissioner would transfer to the township supervisor in 2021"
Nope!  Fake News!
From the law: – "On that date, all the rights, powers, duties, assets, property, liabilities, obligations, and responsibilities of the road district shall by operation of law vest in and be assumed by the township……. Thereafter, the township shall exercise all duties and responsibilities of the highway commissioner as provided in the Illinois Highway Code."
Nothing in the law points to the Highway Commissioners duties transferring to the Township Supervisor as was reported. The reporting provided false and misleading information and the Editors allowed it to get published without verifying it with the law. Such misinformation becomes problematic as voters may not want the Supervisor to have such powers and they would vote based on the misinformation.
Additionally, Komenda reports conflicting information. Are the responsibilities given to the Township as stated in one paragraph or are they transferred to the Township Supervisor as stated in another?  Cant have it both ways.
The Editor suggests people contact him if they have any "journalism-related questions".
May I suggest people review the Principles of Journalism and the nine core principals prior to calling to share your journalism-related questions?
JOURNALISM'S FIRST OBLIGATION IS TO THE TRUTH

ITS FIRST LOYALTY IS TO CITIZENS

ITS ESSENCE IS DISCIPLINE OF VERIFICATION

ITS PRACTITIONERS MUST MAINTAIN AN INDEPENDENCE FROM THOSE THEY COVER

IT MUST SERVE AS AN INDEPENDENT MONITOR OF POWER

IT MUST PROVIDE A FORUM FOR PUBLIC CRITICISM AND COMPROMISE

IT MUST STRIVE TO MAKE THE SIGNIFICANT INTERESTING AND RELEVANT

IT MUST KEEP THE NEWS COMPREHENSIVE AND PROPORTIONAL

ITS PRACTITIONERS MUST BE ALLOWED TO EXERCISE THEIR PERSONAL CONSCIENCE
.
Our work is funded entirely thru donations and we
ask that you consider donating at the below link.