PARIS, IL. (ECWd) –
On May 14, 2018, Randall Peterson appeared in Edgar County Circuit Court to enter a negotiated guilty plea of Battery – which amended the original charge from "domestic" battery, to "battery." (even though we all know it was domestic)
Peterson pleads guilty to Battery, a Class A Misdemeanor, and was sentenced to:
$350 fine plus court costs
24 months probation, counseling,
weekly Alcoholic Anonymous meetings,
80 hours of Community Service Work,
and to not consume alcohol while on Probation
He is scheduled for a review of payment and community service work on December 10, 2018 at 2:00 p,m. in the Edgar County Courthouse.
.
Our work is funded entirely thru donations and we
ask that you consider donating at the below link.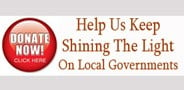 </