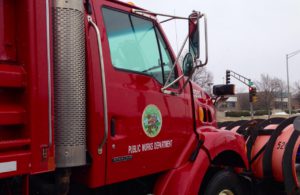 ORLAND PARK, ILLINOIS
According to credit card authorization forms produced pursuant to a Freedom of Information Act (FOIA) request, Orland Park Public Library (OPPL) Director Mary Weimar recently used public library funds to buy "treats" for Village of Orland Park public workers who plowed snow in the Library's parking lot in February. This raises an interesting question regarding the use of public funds by one public body to essentially "tip" public employees working for another related public body. Is this spending on "treats" a benefit to the public in any way? Does this constitute "tipping" of public employees by other public employees using public funds?
In this instance, though the dollar amount spent on "treats" is relatively small, the concept of a public library using taxpayer money to buy "treats" at all to double-compensate other public workers who were on the clock and collecting salaries while doing their work is troubling. The Village of Orland Park employs public workers to operate snow plows in the Village. Those snow plows are assigned routes to plow when snow accumulates. The OPPL's parking lot is on one of those assigned routes and it is the Village employees' assigned work duties to plow that parking lot just as the Village employees plow the lots at the civic center, the police station, the sportsplex, and other Village property. The snow plow drivers are not doing the Library any kind of special favor by plowing that lot but are instead just doing their assigned work duties and completing the task they are paid a handsome salary to complete.
The money that Weimar is spending on "treats" for these Village workers is money that isn't being spent on books, DVDs, magazine subscriptions, computers, or other items that the public could enjoy. Orland Park has one of the highest tax levies around to support the Library but the funds the OPPL receives never seem to be enough because this Library is always asking for more money and higher levies. And every time the levy is raised the Library Board claims it needs to do so or else it will have to cut children's story time and other programs for families. No mention is ever made of Mary Weimar spending tax dollars on "treats" for Village employees at tax levy increase time. Logic dictates that if the OPPL didn't squander its money on so many "treats" then it would not need to seek so many tax levy increases.
Every government entity in Illinois has a limited budget and should use the funds in its possession for the best public benefit. What public benefit comes from tipping other public employees when they are just doing the jobs assigned to them? Where does this tipping end? 
Should the Library be expected to buy "treats" for police officers whenever they come to the Orland Park Public Library to handle a call about a disturbance there? Should the Library be expected to buy "treats" for the postal workers that deliver the mail? Why should the snow plow drivers be tipped but not the cops or the mail carriers? Isn't handling a rowdy library patron or walking a postal workers' beat on foot far more arduous work than sitting in a heated snow plow cab and driving it around a parking lot once or twice a year?
As always, the question is also raised why Library Director Mary Weimar chooses to use public funds to do her "treating" instead of buying those treats herself with money from her own pocket. Weimar's compensation as Library Director for the year 2017 was $203,876 according to the OPPL's posted financial report. If she wants to buy treats for Village workers then she should have more than enough in her pocket to do so, with a compensation package that exorbitant. Instead, she sticks taxpayers with the bill for all her "treating."
Couldn't the snow-plow workers be "treated" in a way that didn't cost taxpayers a dime? The OPPL regularly discards scores of books that it either removes from its shelves or doesn't want from donations. If Mary Weimar wants to "treat" Village of Orland Park public employees then why doesn't she invite them into the Library for a cup of coffee from the Library staff's coffee pot and allow them to take a few books from the discard pile? What better way is there for a public library to "treat" someone than to give that person a book or two for free?
If this "treating/tipping" is happening in Orland Park then chances are it's happening in other communities too. A FOIA request submitted to your local library asking for receipts for food and beverage purchases would be the first step in seeing if your local library director is a frequent "tipper" of other public employees too. From there, see if your local village board or other governing body is engaging in this pattern of tipping behavior too. Why should the public have to pay for these unsanctioned tips when the public is already paying the public workers' salaries for doing the same jobs?
DuJan FOIA 02-26-2018 (N000250) Part 2 REDACTED FINAL

.
Our work is funded entirely thru donations and we
ask that you consider donating at the below link.