Illinois (ECWd) –
We received a confirmation letter on our ethics complaint pertaining to Governor Rauner's alleged co-mingling of political activities with state resources.  The letter sent by the Illinois Office of Executive Inspector General was the standard cryptic format that tells the public little.
"The Office of Executive Inspector General for the Agencies of the Illinois Governor has received your complaint/letter. 
Please be advised that our agency is required to keep confidential all records and information pertaining to any investigation we may commence. Therefore, we will be unable to provide you with the status or outcome of any investigation we may undertake, although under certain circumstances our final investigative reports with findings of misconduct may be publicly released."
Although we appreciate the fact our complaint was not rejected, we can now only wonder if any investigation will ever commence as it is clear, they did not confirm they are investigating, only that one "may" commence or "may" undertake.
You can download the letter at this link or view below.  We redacted the signature in the document.
OEIG-Letter

.
Our work is funded entirely thru donations and we
ask that you consider donating at the below link.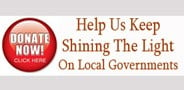 Photo credit Crains Chicago Business