PARIS, IL. (ECWd) –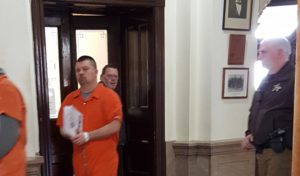 Justin Hefner appeared in Edgar County Circuit Court this morning for a hearing on his 3-count felony case, 2018 CF 39, False impersonation of federal government employee, false impersonation of peace officer, and false impersonation of peace officer.
Hefner appeared in custody with Public Defender McGrath, a Motion to Continue was heard orally, and Motion to place fitness exam on file heard. Both Motions Granted.
Motion to Modify Bond was presented and a hearing date of April 23, at 2:00 p.m. was set to hear that Motion.
Hefner was remanded to custody of the Edgar County Sheriff.
.
Our work is funded entirely thru donations and we
ask that you consider donating at the below link.