SPRINGFIELD, IL. (ECWd) –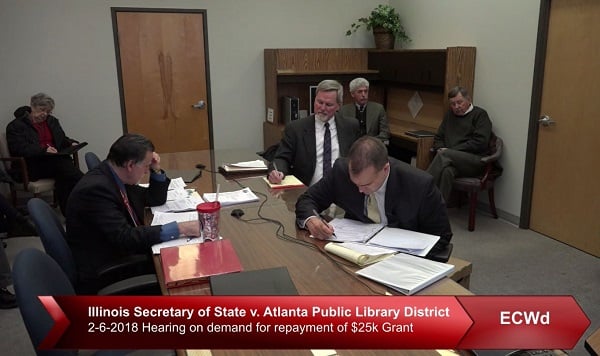 Mid-2017, we started our investigations of troubling activity within the Atlanta Public Library District.
One of the items uncovered was a "Live and Learn" Grant of $25,000 made by the Illinois Secretary of State Library to the APLD. This grant dealt with a faked lease/purchase agreement where no payments were ever made towards that agreement, and later, several leases, all of which financially benefitted APLD Trustee and Treasurer William "Bill" Thomas.
We met with representatives of the State Library last fall, filed a formal complaint, and this Hearing is the culmination of our efforts to hold Bill Thomas and the Library accountable for their actions pertaining to the grant.
It is abundantly clear they threw their former attorney under the bus for his horrible legal advice. We suggest they demand their money back from him – and as I told the board more than once, an attorney cannot authorize violations of law.
We would like to give a shout-out to Diane Benjamin (blnnews.com) and all of the concerned citizens of Atlanta, Illinois who assisted in many ways, including attending meetings, requesting public records, evaluating public records, researching people and activities, and helping us put all of the information in a format easily readable.
There are other issues still being worked on and our efforts will continue. For now, enjoy the Hearing in its entirety:
.
Our work is funded entirely thru donations and we
ask that you consider donating at the below link.