PAXTON, IL. (ECWd) –
The Ford County Supervisor of Assessments has tendered her resignation effective Monday, February 19, 2018, according to the Ford County Record.
She stated that she resigned amid complaints from unhappy taxpayers in advance of a Special County Board Meeting scheduled for Monday night to discuss her job (we understand this meeting may be canceled).
We attended the last regular board meeting where residents voiced their concerns – see the video in this article and wrote about the assessment issues in this article.
More info when it becomes available.
.
Our work is funded entirely thru donations and we
ask that you consider donating at the below link.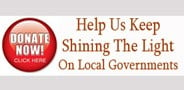 </a