Carlinville, IL. (ECWd) –
Statements to the Attorney General, when reviewing open records and open meetings complaints, should be sworn to under oath.
The City of Carlinville replied to my complaint of alleged FOIA violations for their refusal to provide public records related to their appointed representative's use and receipt of records in their decisions and discussions during the alleged private water company board meetings.
Among Carlinville's claims is that they are "committed to open government" – which made me laugh since there are numerous complaints with the AG still outstanding, and 4 separate active FOIA lawsuits for their alleged failure to provide public records. How is that a commitment to open government?
Those lawsuits are 2017 MR 25, 82, 101, and 126 – you can research them on Judici.com.
Please consider reading Carlinville's letter and my response to their letter concerning records of the alleged water company that were used by Carlinville's representative to the alleged water company (both letters are below).
A range of issues are discussed, such as:
Did they provide me with the records in their possession?
Explain how they searched for those records.
Does the city possess additional records?
Is the IARWC a party with which the city has contracted with to perform a governmental function on behalf of the city?
What services does IARWC perform for the city?
What is the reason for the $3000?
Is IARWC a subsidiary body of the city?
How was it founded?
How is it funded?
What is the relationship between the company and the city?
How is it controlled?
Does the city's appointed representative exercise day-to-day control of the company?
Kraft - Carlinville - 2018 PAC 51191 redacted

.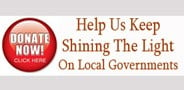 <