ALGONQUIN TOWNSHIP (ECWd) –
The Algonquin Township telephone system was hacked recently and the hacker left a rather bizarre and offensive message, which those reaching the Township voicemail would have heard.
Here is the partial message, we are working on obtaining the complete message and will post it later:
If anyone recognizes the voice of this individual, please either let us or the Township know so it will be easier for the State's Attorney to file felony charges against him for disrupting a telecommunications service, unauthorized accessing of government property, and destruction of government property – the latter two carrying enhanced sentencing guidelines.
.
Our work is funded entirely thru donations and we
ask that you consider donating at the below link.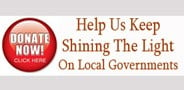 </a