ATWOOD, IL. (ECWd) –
The Village of Atwood Board held a Special Meeting on January 24, 2018.
The resignation of Trustee Venis was read and accepted by the board as a valid resignation.
The resignation of Trustee Cornwell, scheduled to be read, was not considered by the board since it did not meet the requirement of being notarized, according to the Illinois Municipal Code.
Mr. Jeremy Welch was appointed, on a 3-2 vote to replace outgoing Trustee Venis, and he took his Oath of Office.
Those voting "no" were concerned that they did not know anything about the appointee, and requested time to talk to him prior to the vote.
Meeting adjourned.
.
Our work is funded entirely thru donations and we ask that you consider donating at the below link.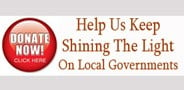 <