Illinois (ECWd) –
In Illinois we continue to find bad actors in our local government and elected and/or appointed boards that go out of their way to cover it up, justify it, defend it, and even reward their actions with massive payouts.  Why?
While many are familiar with the Michigan State University and Olympic Doctor who was sentenced to 175 years in prison for sexually abusing young girls, how many have noticed how others in that state reacted?
The Michigan State University, who for years apparently ignored complaints of this Doctor's sexual abuse, is now looking for a new president.
MSU President Lou Anna K. Simon has resigned over the actions of the former MSU employee but there is more. "The list of those calling for her job now includes current MSU trustees Mitch Lyons and Dianne Byrum, the Michigan House of Representatives, several state senators, gubernatorial candidate Gretchen Whitmer, State House Speaker Tom Leonard, newspapers across the nation and dozens of survivors of Nassar's sexual abuse." (The State News) 
In Illinois, we find a huge contrast from what went on in Michigan.
What is the huge contrast?
Silence! 
Silence from our Governor
Silence from our Attorney General
Silence from our General Assembly
Silence from our State Senate
Silence from the mainstream media
While those who have a bully pulpit to speak from stay silent, the local boards that permitted the above action to be rewarded continue to send a message.  A message that in Illinois, ethics and principles have no place.  The days of leaders doing the right thing and being proactive to stop illegal and abusive activity in their organizations have been replaced with high priced taxpayer-funded lawyers who direct boards down a path of billable hours.
While many say it's cheaper, in the long run, to pay the bad actors to go away instead of terminating them for cause, the fact of the matter is, doing that prevents anyone from being held accountable for their actions.  That message has now grown legs in Illinois! It's the way we do business and public officials know it.
More often than not, public officials taken the position that the path of least resistance is the best option so we ignore, defend, justify, and reward bad actors in our local government instead of demanding resignations and prosecutions.
Most are familiar with the phrase, "All it takes for Evil to take over is for a few good men to do nothing."
Illinois citizens have done nothing for way too long!  We no longer enforce our state Ethics laws nor stand on principles of doing the right thing.  Ignoring the importance of ethical conduct and principles is doing nothing but further decaying our rule of law and the people's trust in their government.
As a local government accountability nonprofit organization, we see how bad things really are and will continue to fight the Evil that has festered into our state. It's time for people to get involved to fix their local government.
We will be hosting Watchdog training throughout the state this year and urge everyone to take time to attend this free training to better understand how easy it is to actually make a difference in their local community.
The training provided and put to use has lead to 166 criminal indictments in Illinois of which eight of those were in Federal cases. The model we have developed is duplicatable and works if you work it!
Check back for training dates.
.
Our work is funded entirely thru donations and we ask that you consider donating at the below link.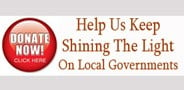 <