ATWOOD, IL. (ECWd) –
We have been notified of a Special Meeting scheduled for this afternoon, January 24, 2018 @ 5:30 p.m., of the Village of Atwood Board of Trustees to accept the resignations of Trustees Venis and Cornwell for reasons not disclosed on the agenda.
Also scheduled is an appointment to fill one of the newly vacated seats.
.
Our work is funded entirely thru donations and we ask that you consider donating at the below link.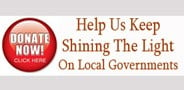 <