Illinois – (ECWd)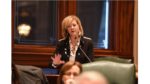 "Today my team and I are taking the first step toward restoring common sense in Illinois," Ives said. "I have started circulating petitions to get on the ballot as governor of Illinois." (Prairie State Wire)

Although a formal announcement that she is running has not been made, the first step of getting on the ballot and identifying future support has begun with the circulation of petitions.
Full coverage appears to be the first shared by the Prairie State Wire that includes links to download petitions for circulation.  (Prairie State Wire)
We suspect this is not the Shake Up Governor Rauner was looking for.
.